10 Best WordPress Membership Plugins In November 2023
The listings featured on this site are from companies from which this site receives compensation. This influences where, how and in what order such listings appear on this site.
Advertising Disclosure
Have you ever wondered what you will need to build a site, a community of various people? Have you ever wondered how the numerous premium websites get the information of multiple users who access and pay to view their content? The answer is WordPress Membership plugins.
When you start an online business or extend a business to the online platform, you simply build a WordPress website and offer all the services to the clients. But if you want to limit the access of your website to only the customers who had paid premium charges for that, then your site needs to be turned into a membership website. And for that purpose, you need an additional plugin that will help to add the membership functionality to your website. The membership plugin will help to limit the access of the content, downloads, support, etc. to the paid users.
The three things that must be kept in mind while selecting a membership plugin for your website are its usability, compatibility, and features. So, based on all these factors We have Handpicked and listed out the best Membership plugins that can make a huge difference if used on your website.
Now, Let's jump on the list of the top 10 WordPress Membership plugins so that you can choose the right one according to your requirements.
10 Best WordPress Membership Plugins In 2023
1. MemberPress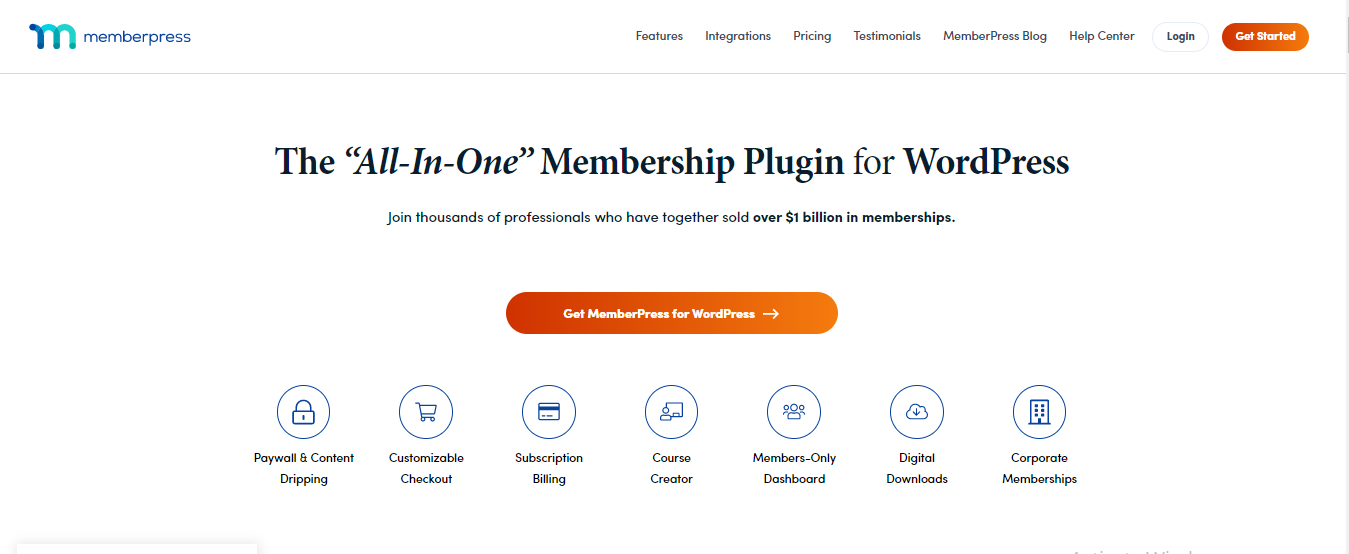 Developer: Memberpress
Current Version: 1.9.27
Money Back Guarantee: 14 Days
Free Trial: No
Memberpress can be a perfect choice for the websites that want to sell their learning courses through their websites. MemberPress can restrict your content based on certain different categories such as files, posts sections, or downloads. Also, it is capable to display the performance reports about your website. With Memberpress, You also own unlock the content for specific users at prefixed time intervals.
Benefits include:
Build Premium and Password Protected community forums.
Easy to set up and configure.
Can be used for certain types of booking websites.
Powerful access rules to get complete control over your content to limit the access of the users on specific things such as posts, downloads, pages, etc.
Customizable coupons are there to generate and manage control over the coupons that you offer to your clients or customers.
Login widgets are available on the sidebar for the users for signing in.
No CSS or HTML is required to build beautiful pricing pages for your website.
Affiliated program to create a team with zero cost for powerful and effective business promotion.
Automated billing helps out to the client to upgrade, join or cancel a service.
It also provides fully protected downloadable files for subscribed users.
Automated tax calculations with the help of TaxJar integration.
Drawbacks and Limitations
The interface can make a lot of beginners confused.
The integrations do not come with the plugin itself.
Pricing
Plus plan – $299
For 2 Sites
Advanced marketing Integrations
More than 2000 Zapier custom integration
14 Days Money Back guarantee
2. Teachable
Developer: Teachable Inc.
Current Version: 8.1.2
Money Back Guarantee: 14 Days
Free Trial: No
Teachable is a good option for websites that want membership functionalities, especially online learning platforms. It has a bunch of simple tools to build and sell courses through your online learning website. It is primarily focused on selling the various courses and the courses are designed in such a way that it makes sense to most of the clients who visit the website.
Benefits include:
Easy to set up and use.
With the help of the drip content feature, you can easily allow the flow of content within the restricted.
boundaries of your website for certain premium users.
With a comprehensive dashboard, you can have a glance over the student's insights.
Track sales with the help of advanced dashboards.
A flexible page editor helps out to create beautiful sales pages for money-making purposes.
Customized access permissions and roles for authors, contributors, and team members.
Third-party forums can be used to store the feedback from the students.
Options to offer coupons and subscriptions, membership plans, etc.
Powerful marketing tools to advertise your offerings.
Highly efficient system to deal with taxation-related tasks.
Drawbacks and Limitations
A little bit more expensive than the other Membership plugins.
Charges of 5% fees on each transaction are applicable, if you opt for a basic plan.
Pricing
Free plan
Unlimited students
Unlimited courses
Basic quizzes
Course design templates
$29 Basic plan
2 admin-level users
Product support
Integrated E-mail marketing
3. LearnDash
Developer: LearnDash
Current Version: 2.10.3
Money Back Guarantee: 15 Days
Free Trial: No
LearnDash is a popular choice if we consider the available membership plugins in the market especially from the category of learning platforms. You can display all your courses, training, tests in the form of subscriptions and memberships. The payments for the memberships or the subscriptions can be accepted using different payment gateways such as PayPal, Stripe, etc. This can be the one-stop solution for you if you are looking for a membership plug-in for your online learning website.
Benefits include:
Drag N Drop Course Builder.
Advanced quizzing with the help of question banks is offered to the registered users.
Dynamic content delivery for Drip feed lessons for the registered users.
Automatic notifications with trigger E-mails to the subscribed users.
The drip content feature allows the flow of content to the learners at regular intervals.
Discussion Forums for the learners.
Easy Subscriptions and memberships for the learners.
WooCommerce, Active member 360, and BuddyPress integrations.
Group management of the various users subscribed to various courses.
Drawbacks and Limitations
Lacks some important membership features.
Pricing
Basic plan $159
1 Site License
Drip Feed lessons
E-mail notifications
1-year support and updates
4. Restrict Content pro
Developer: Stellar WP
Current Version: 3.4
Money Back Guarantee: 30 Days
Free Trial: No
Restrict content pro has everything that is required for an excellent membership plugin that can meet up all the requirements for your website. This plugin offers easy options for you to control the flow and restrict the content to the specific users who had subscribed for that. You get a lot of settings on the pages, posts, and other blocks which will limit the access of the content. You can choose the desired pre-defined levels of user access as per your requirements.
Benefits include:
Easy to set up and configure restriction settings.
Multiple membership levels for the users.
Membership management to have a glance at all members through the dashboard.
E-mail notifications to send welcome and important mails such as payment receipts and important reminders.
Can be Integrated with Wo-commerce to deal with online shopping of the products and services.
Can be Integrated with payment integrations such as Stripe, PayPal, and 2checkout.
You can create several discounts and coupon codes.
Customer Dashboard for the members to manage their respective accounts.
Prorated Membership feature allows the members to switch between the subscription plans by paying a nominal difference between them.
Intelligent and informative reports to display the performance of your membership website.
Freedom to block and allow specific users from accessing different sections of your website.
Drawbacks and Limitations
Marketing options to promote your website are limited.
Third-party integrations are required if you want to enjoy some features such as woo-commerce.
Pricing
Free Plan
Content Restriction
Membership Levels
Member Dashboard
Plugin updates
Personal – $99
34 Pro Addons
Plugin updates
Private Ticketed support
License 1 Site
5. Paid Membership Pro
Developer: Stranger studios
Current Version: 2.7.2
Money Back Guarantee: 30 Days
Free Trial: No
This is the membership plugin that comes with power-packed performance features to extend the membership functionality of your website. You can create unlimited membership levels for users so that access to the content can be made limited depending upon the subscription of the users. Also, you can implement marketing strategies only to the free users and can devoid the paid users from that.
Benefits include:
You can restrict default content for the subscribed users or you can hide it completely for all the users as well.
Custom post types can also be restricted including forums, communities, products, and downloads.
You can also limit the access of single pages for one-time use only in the case of Trial plans.
Content dripping to drip-feed access a particular content to the members on a scheduled time.
Users can view and search for member listings over the community on your membership site.
Multi-tiered membership is there to provide organizational or individual membership to the users.
E-mail communications for sending notifications, payment reminders, payment invoices, and expiration notices.
Multiple payment gateway options such as Paypal, 2Checkout.
Woo-commerce can be integrated as an addon.
Generate discounts, Gift and Invite codes for the subscribed members with tracking performance.
Track members and their activities.
Drawbacks and Limitations
Some documentation needs coding knowledge.
The paid options are a little costlier for small business websites.
Pricing
Free Plan
Unlimited Restricted Content
Unlimited Membership Levels & Members
Stripe, PayPal Express, & more
More than 31 Free Add Ons
Plus version – $297
Support and updates for 1 to 5 sites
19 Free Add ons
6 payment gateways
Memberlite theme
6. Paid member subscriptions
Developer: CozmosLabs
Current Version: 2.6.0
Money Back Guarantee: NO
Free Trial: Yes
Paid member subscriptions are a simple and lightweight membership plugin that can be the best choice for your website if you want to load it with membership functionalities and features. It comes with power-packed features that are sufficient for any membership website that wants to gain popularity and restrict the flow of its content between its users.
Benefits include:
Easy set and configuration of the access rights of the content among the users.
Gives you the power to restrict posts and pages to a certain category of users.
You can restrict the woo commerce products and shop page.
Members are allowed to log in with the shortcode.
With the help of member management, you can manage the plans and membership levels of the users.
You can also prevent the users from account sharing when they are logged in to the same account from different places at the same time.
You can also view or check the performance of your membership website with the basic Reporting feature.
Customized E-mail templates to send mail notifications and alerts related to subscription, activation, and the expiration of the membership.
You can track the payment of all the members with the help of payment management tools.
Subscription management is also there to create subscription plans to allow the members to upgrade to the other available plans.
Drawbacks and Limitations
Integration options from the third party such as Zapier and Authorize.net are not available.
A limited number of plans lack the intermediary cost.
Pricing
Basic plan – $69
1 Site License
Woocommerce integration and 8 basic Addons
1 Year updates and priority support
7. Memberhouse
Developer: Memberhouse
Current Version: 2.1.0
Money Back Guarantee: 14 Days
Free Trial: No
Memberhouse is one of the most premium membership plugins that you can choose for your membership website. It has the ability to create both membership levels as well as bundles for the users. You can allow the dripping of your content to a certain category of users at pre-scheduled intervals. Other than that all the restriction functionalities are also there to help you to control the flow of your content within limits to a certain category of users.
Benefits include:
Easy installation and configuration make it simple to implement membership functionalities on your website.
Free and paid Membership is there to avail it to your customers or members.
Recurring subscriptions and payment plans are also can be introduced on your website with member house.
One-time purchases by the members can also be tracked and controlled by you.
Multiple payment options or gateways are there for the members to get the subscriptions easily.
Gifting functionality and coupon codes are also implemented to make them available for the members.
Auto-locked shared accounts and protected members area works brilliantly when it comes to the protection of your content.
Self-promoting content and timely dripping of the content make sure that you don't need to worry about the content flow to the members at regular time intervals.
Push notifications to the members and content protection with synchronized billing make all the things automated.
Zapier integrations, E-mail, and third-party integrations are also there.
Member and revenue Dashboard is also there to track the performance of the website.
Members activity log helps you to monitor the activity of individual members.
Drawbacks and Limitations
Not GPL Licensed and lacks full access to the source code.
SaaS-style billing model makes it more costly.
Pricing
Builder plan – $29
All payment integrations
All Email integrations
Basic Reporting
Email support
Staging License
14 days Free Trial
8. S2 member plugin
Developer: WP Sharks
Current Version: 2.1.0
Money Back Guarantee: 14 Days
Free Trial: No
S2 member plugin can also be another choice if you want a variety of different features at zero cost. As there are limited features all the available ones come in handy when you are creating a membership website. But if you want the hardcore features then you can extract them out with the help of the premium paid version.
Benefits include:
Content Restriction options
Integrated PayPal and stripe for payments
Paypal standard button integration
Open registration options
Unique IP restrictions
File Download restrictions
Protected audio and video streaming
Custom login design
Customizable E-mail templates
Member profile modification
Integrated mailing lists
Integrated Affiliated programs
Integrated Buddypress
Login monitoring
Content dripping through shortcodes
Configurable coupon codes
Drawbacks and Limitations
Complicated setup or installation
The user interface lacks modern practicality.
Pricing
Free plan
Content Protection
PayPal Buttons
Pro version – $89
Single site
Open source and lifetime updates
Multisite network support
Anti-spam security
9. WP-Members
Developer: Chad Butler
Current Version: 3.4.1
Money Back Guarantee: No
Free Trial: Yes
WP-Members is an official membership plugin offered officially by WordPress that can help you to load your website with wonderful membership functionalities. It was the first WordPress membership plugin that gave wonderful features to restrict your content and options for simplified registrations. This can be the best choice for your membership website if you want a simple membership plugin with basic membership features.
Benefits included:
You can restrict your post and pages.
Custom posts types can also be restricted.
Custom registration fields can be easily created with WP members.
More powerful admin dashboard to approve the content restrictions.
You can also limit the menu items only to premium members.
Smart notifications for the admin about new canceled and expired registrations.
More than 120 action and filter hooks for powerful customizations.
Drawbacks and Limitations
Lacks the functionalities and options when compared to other membership plugins.
Pricing
WP-Member is also available for free with limited features.
WP-Members Priority Support plan – $59
1 Year Email support
1 Year Premium site access
1 Year Forum access
10. Memberium
Developer: Memberium
Current Version: 2.17
Money Back Guarantee: 30 Days
Free Trial: No
Memberium is the membership plugin that was born to fulfill the needs of the people who were using ActiveCampaign and WordPress together. Memberium helped them to create advanced, beautiful, and automated WordPress websites that can work with ActiveCampaign. This plugin is used by some of the topmost marketing giants. With Memberium, you can deal with the selling of unlimited online products and memberships levels.
Benefits include:
Sell and create online courses along with digital products by granting automatic access.
Can be integrated and used with page builders such as Elementor, Divi, Gutenberg for page editing tasks.
Create automated membership sites by an automatic grant to any WordPress content.
Using the Umbrella Accounts feature, you can sell group access to the members.
You can create an unlimited number of membership levels as per your requirements.
Memberium implements Security methods to block the sharing logins of the members simultaneously to boost the signups.
Create customer billing portals where the members are allowed to update their card details and can check their invoices along with subscription details.
Memberium can limit, restrict and automate the access to the downloads section of your website for the registered users.
Track the performance of your membership site easily.
Drawbacks and Limitations
A small team handles the whole infrastructure of this plugin.
The code of Memberium is not GPL and you cannot get 100% access to the source code.
Pricing
Standard plan – $57
1 domain
Premium 24/7 Email support
Frequently Asked Questions
Why should you use membership WordPress plugins?
While dealing with various processes in your online business you also had to take care of what should be made available for free and what should be avoided to be delivered at zero cost on your website. Now at this time, the membership plugins come into play. They provide you complete control over your content and you can limit the access based on the customer category. You don't need to bother about the billing and forget about manual reminders or notifications to the registered customers. All things such as billing, registration, taxation, and content blocking get automated when you use a membership plugin and you can live with complete peace of mind.
Benefits of using membership WordPress plugins
Generate recurring revenue from your website
Completely control the access to your content.
Building Good Customer Relationship
Building a dedicated community of users or customers
Simply implement the Targeted marketing approach
Conclusion
Now as you have learned the important things that must be kept in your mind before choosing a membership WordPress plugins and based on this learning you can choose the best WordPress membership plugin for your website. We hope that this information was helpful to you and you will use it for your more excellent knowledge.