10 Best WordPress SEO Plugins In November 2023
The listings featured on this site are from companies from which this site receives compensation. This influences where, how and in what order such listings appear on this site.
Advertising Disclosure
If you had started a WordPress website for your business and you are approaching the conventional way of running an online business website, then it's not the right way to gain more leads. For that you have to implement the best SEO practices and using a WordPress plugin Is one of them.
With the implementation of a WordPress plugin, you can effectively attract more quality and quantity traffic to your website without any technical hassles. A decent SEO plugin will provide you with the necessary and powerful tools to optimize your website with the latest SEO techniques.
Here we have handpicked and compiled a list of the 10 best WordPress SEO plugins that can help you in optimizing your website and increase large quality traffic towards it.
10 Best WordPress SEO Plugins In 2023
1. Yoast SEO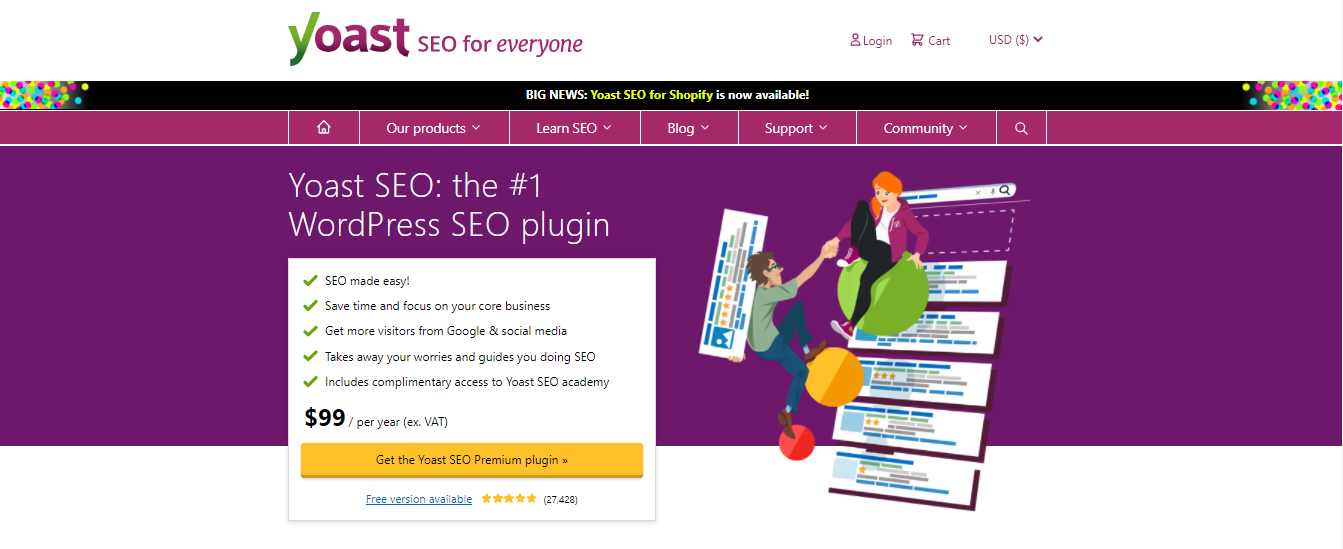 Developer: Team Yoast
Current Version: 18.0
Money Back Guarantee: 30 Days
Free trial: No
Yoast SEO is the simple and best SEO plugin that has gained huge popularity over the last few years. It helps to keep your website optimized in a healthy way with its wonderful SEO features. You can optimize your content in an SEO-friendly way and can boost your search rankings. One of the strengths of Yoast SEO is its structure-building capability that can organize your content in an SEO-optimized way and the visitors can find the desired content on your website more easily.
Benefits include:
Yoast SEO can optimize your posts for a particularly targeted keyphrase.
Powerful linking tools to create a robust internal linking structure.
Yoast SEO adds structured data in paragraphs so that google can notice your site more effectively.
Improve the readability of your content by making it more organized and structured.
Avoid Dead links and 404 errors present on your website.
Manages the keyword density.
Can create an optimized meta description for your website.
Help you to implement the focus keyword correctly.
Keep the permalinks of the website clean and tidy by giving you the modifying permalink option.
Built-in social sharing options.
Drawbacks and Limitations
Do not consider the intent of the keyword while working on the keyword density.
Understand the readability and content strategy based on certain parameters.
Pricing
Free Plan
All round SEO functionality.
Breadcrumbs navigations to perform core SEO practices.
6 Free Academy courses to polish your SEO basics and knowledge.
Plus plan – $99
24/7 support
Premium updates with notifications.
2. SEOPress
Developer: SEOPress
Current Version: 5.4.3
Money Back Guarantee: 14 Days
Free trial: No
This plugin is the simplest plugin to boost and charge up the SEO. SEOPress has a more user-friendly setup that is very easy for beginners to understand. It has several SEO functionalities and tools such as title, redirection, XML images, etc. It would yield a better SEO implementation resulting in a higher ranking in the search results
Benefits include:
Integrated Page builders.
Manages SEO title and meta tags effectively.
Google and Bing Instant indexing helps you in Indexing your URLs easily in a couple of hours.
SEO press optimizes your content on social media platforms as well.
Provides you the power of Google Analytics to gain insights into your website performance.
Automatically optimize the images for better SEO performance.
White-label options help you to tag your own branding to SEOPress.
Content analysis tool for creating better-optimized content.
woocommerce SEO to increase your sales performance.
Redirection manager and 404 error monitoring to prevent traffic loss.
Easily add custom rules to robots.txt and redirect to .htaccess files for crawlers.
Drawbacks and Limitations
A little time and effort are required to get familiar with it.
Not has a popular name as compared to its competitors.
Pricing
Free Plan
Full features to analyze website traffic
Amazing Blog post optimization options
Zero advertisements
Compatible with other analytics tools such as Google Analytics.
$39 – Pro Version
Unlimited sites
1 Year support
1 Year updates.
3. All in one SEO pack
Developer: All in One SEO Team
Current Version: 4.1.6.2
Money Back Guarantee: 14 Days
Free trial: No
All in one SEO pack is also a basic and simple plugin that comes in handy for beginners to get started. This plugin helps you to optimize your website as well as the content so that your website can get a higher ranking in the search engine results.
Benefits include:
Custom SEO user rules to provide several SEO functionalities without giving full control of your website to a
particular user.
Google news for grabbing more site traffic with your latest news article on google news.
Provides you with all the essential tools for local SEO.
Complete support for a schema with its rich snippets to get more traffic.
Add custom texts and links to your RSS feed.
Smart XML sitemaps to forward notifications to all the search engines about any update on the website.
Integrated social media tools to visualize your content on social media platforms.
Add a title, keywords, and meta descriptions for good on-page SEO optimization.
Video site map generator to increase traffic on your website.
Advanced woo-commerce support to optimize the pages related to certain products.
Robots.txt Editor to notify the crawlers about your folders and files which you want to get crawled on your website.
Drawbacks and Limitations
The Free Version allows you to add only a single focus keyphrase.
Breadcrumbs navigation is not available.
Pricing
Basic plan $49
1 website
Standard support
Unlimited Keywords
Regular updates
4. W3 Total cache
Developer: Boldgrid
Current Version: 2.2.1
Money Back Guarantee: 30 Days
Free trial: No
This is also one of the best popular plugins that would help to charge up the SEO on your website. Although the setup or installation is not easy for beginners, this plugin is highly recommended for those websites that have almost 500 – 600 visits per day. It comes with power-packed SEO features to boost the traffic but also boost the speed of the website with its smart caching functionalities.
Benefits include:
The speed coach feature helps your website to make it lightning fast.
Bold Grid's easy SEO tool helps to analyze the content on your website in real-time and makes recommendations accordingly.
Optimize the speed of your website to charge up the search rankings of your website.
Performs the caching of database, objects, and fragments present in the memory.
Support SSL and AMP.
Minification of the posts, pages, javascript, and CSS modules.
WebP Image conversion to deal to make the loading of all the images on your website more quickly.
Drawbacks and Limitations
Lacks a proper client support system.
Implementation of only caching techniques to increase the traffic on your website and lacks dedicated SEO tools.
Pricing
Free plan
1 website
Basic SEO features
Comes with powerful caching abilities
AMP and SSL support
$8.25
Plugin updates
Premium support
5. Rank Math
Developer: Rank Math
Current Version: 1.0.81.1
Money Back Guarantee: 30 Days
Free trial: yes
Rank Math is the most serious plugin that deals with a beginner in a more simple way and interacts with an SEO expert maturely. It manages and optimizes the content on your website in such a way that it becomes more SEO friendly and manages to grab a higher ranking in the search results.
Benefits include:
Easy to set up and configure for novice users.
A clean and simple user interface to give you more informative insights about your website.
Rich snippets are also there to see the preview on social media platforms.
Content AI helps suggest you the best keywords and phrases that would help to glorify your content.
Integrated Advanced SEO Analytics module to show the ranks for keywords, the status of the sitemap, and indexing issues.
Integrated Google Analytics to give you a glance of your website directly from the dashboard.
Rank tracker helps to track the performance of your website with its competitors.
Monitor the performance of the existing SEO practices on your website.
Easy to know about each keyword of a particular post for which your website is ranking.
Include structured data to your posts with a few simple clicks.
Importing the pre-built schema from the other website using its URLs.
Drawbacks and Limitations
A large number of overwhelming features can make a new user confused.
Pricing
Free Plan
18 Pre defined schema types
7 Days of Google Data Fetch Frequency
30 Days of Email Report Frequency
Elementor and Divi Integration
Pro version – $59
Unlimited websites
Free 15 content AI Credits
Schema generator
24/7 support
6. Broken Link Checker
Developer: WPMU DEV
Current Version: 1.11.16
Money Back Guarantee: NO
Free trial: No
A broken link checker is a specialized plugin that is dedicated to monitoring all the internal as well as external links on your website. It notifies you on your WP dashboard if there is any broken link creating problems on your website. This in turn is helpful to optimize the performance and SEO of your website and helps it grab a higher search ranking in the results.
Benefits include:
Monitors all the external links and internal links on the posts and pages of your website.
Easily identifies and detects the missing images and redirects that are not working.
Smart notification on the dashboard or through e-mails.
Highlights the existing broken links on the posts of the website.
Stops the search engine to follow the broken links on your website.
Search and Filter options to find the broken links based on URL and anchor text.
Links can be edited without updating any post manually.
Drawbacks and Limitations
Lacks the practices of a dedicated SEO plugin and focuses only on link checking.
Pricing
Absolutely Free
7. Rankie
Developer: ValvePress
Current Version: 1.7.2
Last Updated: Jan 2022
Money Back Guarantee: 30 Days
Free trial: No
Rankie is another plugin that you can consider to get a higher search ranking for your website. It is basically a monitoring tool that will track and monitor the performance of your website on the basis of SERPs.
Benefits include:
Rankie simply tracks the keywords ranking on google and keeps them updated for your website.
Rankie generates ranking reports every month to make you aware of the ranking performance of your website.
Rankie also has a keyword research tool that helps you to find the best keywords that can be targeted to get a higher ranking.
Rankie auto tracks all the searched keywords and adds them to your dashboard for further tracking.
It uses 4 different methods that can be used for locating the position of your website for google keywords.
Sends you daily reports about the performance of your website via Email.
The unique ranking record for each keyword is displayed in a graphical form.
Smart and easy filtering allow you to instantly filter tracked keywords based on multiple filters such as by site, by group, or a particular search term.
Every action is recorded in the detailed action log for future references.
Drawbacks and Limitations
Need additional assistance from other SEO tools.
Considered as a rank tracking plugin lacking several SEO tools.
Pricing
$21
Future updates
6 Months support
8. WP Meta SEO
Developer: Joom United
Current Version: 4.4.4
Money Back Guarantee: 14 Days
Free trial: No
WP Meta SEO is a helpful SEO plugin that tracks and monitors the SEO status of your website. The most beneficial advantage of using WP Meta SEO is its SEO mass processing feature that helps you to edit multiple pages at the same time. This plugin can be very useful when you are reviving or activating an old website or blog again.
Benefits include:
Update the meta of the complete content on your website simultaneously.
HTML image resizing and optimization can be done on the content of your website.
XML and HTML sitemaps generators to prepare the sitemaps of your website containing the links of posts, pages, menus, etc.
On-page SEO Analysis and Optimiser tool help you to add meta title, meta description, and meta keywords.
Bulk link editor indexes all the links in your content and will allow you to edit the links present on your website in bulk.
Redirect and 404 Error manager tracks all the 404 errors in the URLs, text links, etc., and allows you to configure custom redirects.
Integrated Google analytics to generate the reports for active monitoring.
You can switch from Yoast SEO easily without losing all your metadata with the help of metadata imports.
Drawbacks and Limitations
Email reports are only available in the premium versions.
Loses out in popularity and reliability as compared to the competitors such as Yoast SEO.
Pricing
Free Plan
Breadcrumbs generator
XML and HTML Sitemap Generation/li>
Gutenberg SEO Content Checker
Start version – $39
6 months
Multiple sites
6 Month Update
6 Month support
9. Squirrly SEO
Developer: Squirrly SEO
Current Version: 11.1.11
Money Back Guarantee: 30 Days
Free trial: No
This is the plugin that can make novice users happy who have a limited understanding and functionality and are not SEO experts. This would help your website to get a dramatic boost in the rankings of the search engine. Also, it can pump up the traffic on your website resulting in an increment in the number of visitors.
Benefits included:
Audit management to test the existing SEO practices on your website.
Simplified dashboard to work out all the SEO practices offered.
Link management to take care of all the internal and external links present on the website.
Campaign management is there to keep an eye on the effectiveness of SEO practices that are implemented to dedicated marketing campaigns.
Competitive analysis is there to track the performance of our website as compared to its competitors.
Integrated Google analytics to generate the reports for active monitoring.
Keyword rank tracking is there to track the performance of the keywords and get them updated to attain better traffic.
Keyword research tools are there to optimize the content and stuff it with the most searched keywords.
Drawbacks and Limitations
A little bit sluggish and laggy as compared to other SEO plugins.
Sometimes there are server timeouts while doing keyword research.
Pricing
Pro Version – $59
7 sites
100 Keyword Research
Timely updates
Email support
10. SEMRush Writing Assistant
Developer: SemRush
Current Version: 1.2.0
Last Updated: Jan 2022
Money Back Guarantee: 7 Days
SEMrush writing assistant is one of the best SEO plugins that majorly target and focus on improving the SEO friendliness of the content on your website. It analyzes the readability of the text that you have used in your content and recommends you the variation that would be helpful to turn it more SEO friendly.
Benefits include:
It checks and improves the readability, length of the text, titles, and targeted keywords.
Analyses the difficulty level of your content and gives a readability score after testing.
Analyses the volume and difficulty of the targeted keywords.
Gives you more recommendations about the targeted keywords to improve the SEO factor.
Makes sure that you have used the required formal tone in your voice while writing the content.
Checks if any plagiarism is there or not.
It also checks your links for any type of possible errors.
Drawbacks and Limitations
Some tools do not show consistency.
The readability score seems a little obscure.
Pricing
Pro plan – $19
5 Projects or sites
500 keywords can be tracked
Keyword analytics
Timely updates
Premium support
Conclusion
Now as you have learned the important things that must be kept in your mind before choosing an SEO WordPress plugin and based on this learning you can choose the best WordPress SEO plugin for your website. We hope that this information was helpful to you and you will use it for your more excellent knowledge.