10 Best WordPress E-Commerce Plugins In November 2023
The listings featured on this site are from companies from which this site receives compensation. This influences where, how and in what order such listings appear on this site.
Advertising Disclosure
When you build an online shopping website or store with the help of WordPress, then some additional plugins are also required to give it more e-commerce functionalities so that it can deliver a wonderful shopping experience to the customers. There are a lot of e-commerce plugins available that can fulfill different purposes on your websites making them more customer-oriented with their extraordinary functionalities.
Here we have handpicked and compiled a list of the 10 best useful E-commerce plugins for WordPress that can help you to manage your online store in a customer-oriented approach.
10 Best WordPress E-Commerce Plugins In November 2023
1. Woo Commerce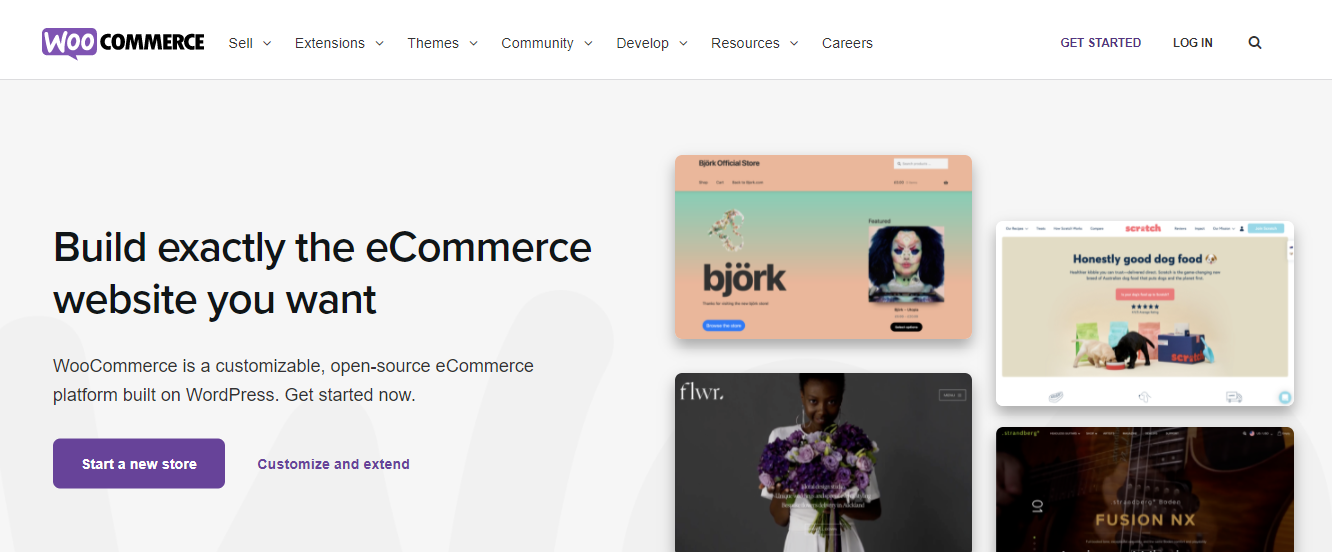 Developer: Automattic
Current Version: 6.1.1
Money Back Guarantee: 30 Days
Free Trial: Not Available
Woocommerce is the old school, most popular, and efficient WordPress plugin that helps out to power online stores and shopping websites. You would be surprised to know that,out of all the functional e-commerce websites today, about 20% are working with the help of woo-commerce. If you have a WordPress website dealing with online shopping then this plugin is strictly required to give your customers a wonderful shopping experience.
Benefits include:
Simple and easy integration with WordPress.
Based on Open Source, so that minimal customizations can be done as per the user needs.
Unmatched flexibility to work seamlessly with various themes and payment providers.
Scalable architecture to extend up all the stuff as your business gets more wide and expanded.
Integrated and In-built payment processing capability with fully functional cart options.
A more wide range of additional extensions.
A modern and powerful order management system for order tracking, delivery status, discounts, etc.
Interactive product listings with beautiful Images, product filtering, and product rating.
Seamless integration with an extensive range of marketing tools.
An SEO-oriented design.
Ready to use In-built blogging for informative and useful discussions.
Drawbacks and Limitations
Some of the additional extensions are paid and do not come integrated with woo commerce.
Set up can be a little confusing for beginners.
Pricing
Automate-Woo : $99
Extensive marketing options
SMS notifications
Regular updates
Reliable support
2. BigCommerce
Developer: BigCommerce
Current Version: 4.23.0
Money Back Guarantee: No
Free Trial: 15 Days
BigCommerce is one of the giant players when we consider the pool of the available managed e-Commerce platforms. Big Commerce plugin is a part of the e-commerce solutions that provides a wide range of E-commerce solutions.BigCommerce is packed with all the essential features that are necessary or required by an online shopping business.
Benefits include:
Easy to customize according to the requirements of the customers.
Highly scalable design to meet up the needs of a growing business.
Interactive product catalogs, cart, checkouts, and shipping information for the users.
Take care of the backend resources to make your online store faster.
It can be integrated with more than 65 payment gateways to deal with payment-related hassles.
The product catalog is highly scalable and can be molded according to the needs of the customer.
Packed with Multi-channel selling and management such as eBay, Amazon, and Facebook.
Can be integrated with your favorite theme to give your website the desired look and feel.
A secure checkout experience can be provided to the customers with secure logins and user accounts.
Flexible shopping cart to adopt as per the user demands.
Highly optimized for SEO-friendly behavior.
Drawbacks and Limitations
Quite expensive as compared to its competition.
Extra payment if you had crossed the limit of the annual online sales.
Pricing
Plus plan : $79.95/month
Unlimited file storage and bandwidth
24/7 support
Regular updates
3. Ecwid Ecommerce
Developer: Ecwid Ecommerce
Current Version: 6.10.18
Money Back Guarantee: No
Free Trial: Not available
This is one of the emerging players among all the e-commerce platforms that are available in the market today. This can be the best choice for your online shopping store or website. It is almost similar to the Woocommerce plugin and works almost in the same way. But the main factor that dominates it over woo-commerce is that it can be a user on a WordPress website as well as other websites which are not based on WordPress such as Facebook, Instagram, Joomla, etc.
Benefits include:
Easy to set up and install.
Supports all the WP themes and hosts.
Sell your products on your website and continue its sales with Instagram, Amazon, google shopping, etc.
Unlimited storage and backups to avoid any data losses in the future.
Auto-scaling helps out to deal with the growing business and traffic.
Automatic tax calculation and filing.
Integrated with all the major shipping carriers.
More than 45 payment options to choose from.
Automatic exports of the products from your desired woo-commerce store.
Compatible POS integrations on mobile devices as well through specific apps on various platforms such as android, ios.
Drawbacks and Limitations
The POS integration that is available for mobile only works with ios.
Ecwid app store has a limited number of available integrations.
Pricing
Free Plan
Online store
Facebook and Google Advertising
Mobile responsive shopping cart
Unlimited bandwidth
Venture : $700
100 products
Unlimited Bandwidth
Mobile POS
Chat support
4. Easy Digital Downloads
Developer: Easy Digital Downloads
Current Version: 2.11.5
Last Updated: Jan 2022
Money Back Guarantee: 14 Days
Free Trial: Not Available
Easy digital download can be the perfect option or choice for you if you are starting a website or online store dealing with digital products such as ebooks, audiobooks, video tutorials, Pdf, etc. It owns the functionality for both digital and physical products but it is more targeted to drive the business of the digital products. The core plugin is completely free but the additional modules need to be paid for.
Benefits include:
Quick and easy startup.
Amazing shopping cart to let the customers browse through the products and add items.
Customizable checkout pages to place the orders after adding them to the cart.
Multiple payment options through various payment gateways such as Stripe or Paypal.
Incredible customer management to record every activity of a customer.
Completely customizable discount codes options to deal with the discount-related hassles on different products.
Interactive data reports to track and visualize the earnings, sales, taxes, and downloads.
File access control to allow or limit the access of certain users or customers.
Integrating mailing lists to keep connected with the customers even after the purchase via newsletters.
External File storage such as Amazon S3 and Dropbox.
Support any WordPress theme that you want to put on your website.
Drawbacks and Limitations
The license of the plans is very limited.
The core plugin lacks various functionalities which we get after installing add ons.
Pricing
Professional : $299/year
Single site license
Premium extensions
Email support
Regular updates
5. Optin monster
Developer: Optin Monster Team
Current Version: 2.6.10
Money Back Guarantee: 14 Days
Free Trial: Not available
As you know that e-commerce plugins are important to deliver a wonderful shopping experience to the customers. But before that, you have to gain or capture the maximum number of customers to increase your sales and drive your business ahead. For that purpose, the Optin monster plugin comes in quite handy. It helps to increase the conversion rate on your website and turn more and more visitors into customers by selling them products using lucrative offers and deals.
Benefits include:
Easy to set up and install.
Monsterlinks can turn any link into an optin form.
Geolocation targeting to focus on certain customers based on their location.
Exit-intent technology detects the behavior of the user's mouse control and displays a targeted message to capture them.
Drag N Drop page builder helps to do the desired customizations easily.
Customized success messages to boost engagement with the visitors.
Lightbox and Floating bar popups to extend your email contacts and increase the conversations with the customers.
Sidebar forms to grab more leads from every page of your website.
Campaign scheduling to target a particular group of visitors and convert them into dedicated happy customers.
Smart conversion analytics to monitor the conversion performance.
Easy Lead sharing with the other marketing partners.
Can be integrated with Zapier.
Drawbacks and Limitations
Customer support is not up to the mark.
Page view limitations after each campaign would force you to upgrade to a higher plan.
Pricing
Pro : $29
3 Sites
25000 Pageviews
MonsterLinks
2 sub-accounts
Priority support
6. Cart66
Developer: Reality66
Current Version: 2.3.7
Money Back Guarantee: 30 Days
Free Trial: 14 days
Cart66 is a simple and decent e-commerce plugin that helps to work out the basic scenarios of a shopping or e-commerce website. Cart66 helps you in a different and better way than the other plugins in the competition. Cart66 takes care of all the things that are needed to be done by you such as finding the best payment gateway, securing the card payments, etc. Cart66 deal with all these types of things and brings on the right choice for you.
Benefits include:
Easy to set up and install.
Physical products can be sold easily with unlimited varied and customized product variations.
Digital downloads help you out to sell and manage digital products such as ebooks, audiobooks, etc.
Secure digital file storage helps out to limit the access of digital products for the customers.
Event registration options for the customers.
Online membership, subscription, and donations.
Content restriction blocks the content for the users who do not have a subscription.
Unlimited options to generate coupons for the customers.
Shipping and tracking the package is easy.
Inventory management options are helpful to manage the stock.
Customized cart options.
More than 100 payment gateways are available.
Quick 'Buy now' links to attract customers for buying certain products.
Responsive and quick notification emails for the customers.
Drawbacks and Limitations
Inventory management is a little confusing.
It's a hassle to set up a shipping method.
Pricing
Free Plan
Community Forums
Stripe, Square, or PayPal*
Complete Plan : $49
Membership and subscription
Google analytics
Email follow-ups with customers
Reliable Ticketing support
Timely updates
7. CartFlows
Developer: Quality Unit
Current Version: 1.8.2
Money Back Guarantee: 30 Days
Free trial: Not available
CartFlows is an essential e-commerce plugin that can boost sales and funnel the sales on your website to make it grow impressively. CartFlows can set up rules to target different customers based on their previous shopping details and display them various offers or deals to boost up the sales of your online store. CartFlows act as a conversion agent that can turn more and more visitors into customers by using its smart customer targeting methods.
Benefits include:
Easy to set up and install.
One-click upselling to create additional offers after check out.
Add one-click order bumps on the checkout pages to boost the conversion rate.
A/B split testing to monitor and drive traffic to the pages which are performing excellently.
Dynamic offers help to display the latest offers based on customer behavior.
Canvas mode helps out to create and visualize dynamic funnels that are important to capture the customers.
Completely customizable CartFlows checkout that is optimized for improving the conversions.
Various pre-built templates are optimized for conversions.
Instantly grow your e-mail list and generate more leads.
Pre-checkout offer while an order is placed by any customer to offer multiple discounts.
Smart analytics to display various customer insights such as total visits, conversions, gross sales, and average order.
Compatible with all the popular page builders.
Drawbacks and Limitations
An additional plugin is required for membership funnels.
Monthly plans are not available.
Pricing
Free Plan
Limited Landing Page Templates
Two Column Checkout
Cart Abandonment
Facebook Pixel Integration
Annual : $239
30 websites
Premium templates
Top-Notch support
Regular updates
8. Constant Contact
Developer: Constant Contact
Current Version: 1.12.0
Money Back Guarantee: 30 Days
Free Trial: 60 Days
The constant contact plugin is the most popular plugin when it comes to capturing the information and details of all visitors to your website. It focuses primarily on the email marketing aspect and the information that is collected by Constant contact includes mail addresses, contact information, sign-up info, and feedback from the visitors.
Benefits include:
Easy setup and installation.
Customizable signup forms can be created to capture and store all the visitors in the mailing lists.
Completely compatible with most of the WordPress themes.
Customizable data fields to craft the forms as per the data collection needs.
Automatic mail capturing enables the addition of the email addresses to the constant contact email lists.
Hundreds of pre-built design templates for the sign-up forms.
Targeted Landing pages help to convert visitors into customers.
Segmentation to separate and target the right type of customers.
Tracking your marketing campaign is so easy by the extensive reporting feature.
Social media marketing and Google ads are also there to drive more traffic towards your website.
Marketing automation helps to send e-mail to follow-ups from time to time.
Compatible with almost all the WordPress themes.
Drawbacks and Limitations
Pricing is very high if we consider the offered features.
Automation is a little bit lacking as compared to its competitors.
Pricing
$20/month
Multiple websites
5 users
Unlimited Monthly E-mails
Unlimited storage
Phone and chat support.
Regular updates
9. Cart Recovery
Developer: Ademti Software
Current Version: 2.8.6
Money Back Guarantee: No
Free Trial: Not available
Cart Recovery plugin is more specific to cart-related purposes and it tracks down all the activities processing in the cart. If any user could not place an order after adding the products to the cart then cart recovery analyses the customer information and send follow-ups via mails related to that issue. Basically Cart Recovery analyses all the events in the cart and use that data for further follow-ups to the customers and lead generation.
Benefits included:
Easy to set up, use, and install.
Simply tracks the customer information such as names and e-mails while they land down on the checkout page.
In case of failure in order processing, it forwards automatic cart recovery emails to the customer.
Tracks the abandoned carts and displays the related stats.
Auto configures the automatic recovery emails feature by itself.
Fully Customizable timing of the recovery emails.
Multiple recovery emails can be sent at a single time.
Recovered cart and lost cart notifications.
Can include dynamic discount codes for different customers.
Visualizes the history of all the individual carts.
Drawbacks and Limitations
Support is not reliable.
Notifications are sometimes sluggish and take too much time.
Pricing
Pro : $39/month
Single Site
Cart Notifications
Automated Discount Codes
Reliable support
Timely updates
10. WP ecommerce
Developer: WP Ecommerce
Current Version: 3.15.1
Last Updated: Jan 2021
Money Back Guarantee: No
Free Trial: Not available
This is the plugin for you if you had worked around the popular woo commerce plugin and spent a considerable time using it. The look and feel of WP e-commerce are the same as woo-commerce but it offers some features in the free version as well which were absent in the woo commerce.
Benefits include:
Easy setup and configuration.
CSS and HTML customizations can be done as per your desire and requirements.
Can be integrated with several popular payment gateways.
Can also be integrated with the most popular WordPress plugins.
Built-in marketing tools to drive sales.
Ready to use built-in shipping tools and integration options with the popular shipping carriers.
SSL to provide you with secure checkouts after placing orders.
Powerful built-in catalogs to display your products.
Incredible Order management system.
Additional modules to extend the functionality of your online shopping website.
Drawbacks and Limitations
Support is not that much impressive.
Pricing
Free
Conclusion
Now as you have learned the important things that must be kept in your mind before choosing an e-commerce WordPress plugin and based on this learning you can choose the best WordPress e-commerce plugin for your website. We hope that this information was helpful to you and you will use it for your more excellent knowledge.