10 Best WordPress Security Plugins In December 2023
The listings featured on this site are from companies from which this site receives compensation. This influences where, how and in what order such listings appear on this site.
Advertising Disclosure
In this digital world, if you have an online business running, then there is a possibility that you can be targeted by certain hackers or cybercriminals who can simply steal your data or can malfunction your website as well. If we consider the reports more than 30,000 websites are hacked daily and this figure can make you worry about the security of your website. So to prevent and avoid these risks WordPress security plugins are used that protect and safeguard the integrity of your website from those unwanted malicious risks. All these plugins monitor the daily activities on your website, perform regular scheduled scans and backups to protect your website and data from malicious intentions of hackers.
Here we have handpicked and compiled a list of the 10 best WordPress Security plugins that can help you to monitor, protect and safeguard your website from harmful security threats including malware and malicious hackers. Now lets' jump down to the list of the 10 Best WordPress security plugins, so that you can select the best one for you depending upon your requirements.
10 Best WordPress Security Plugins In 2023
1. Sucuri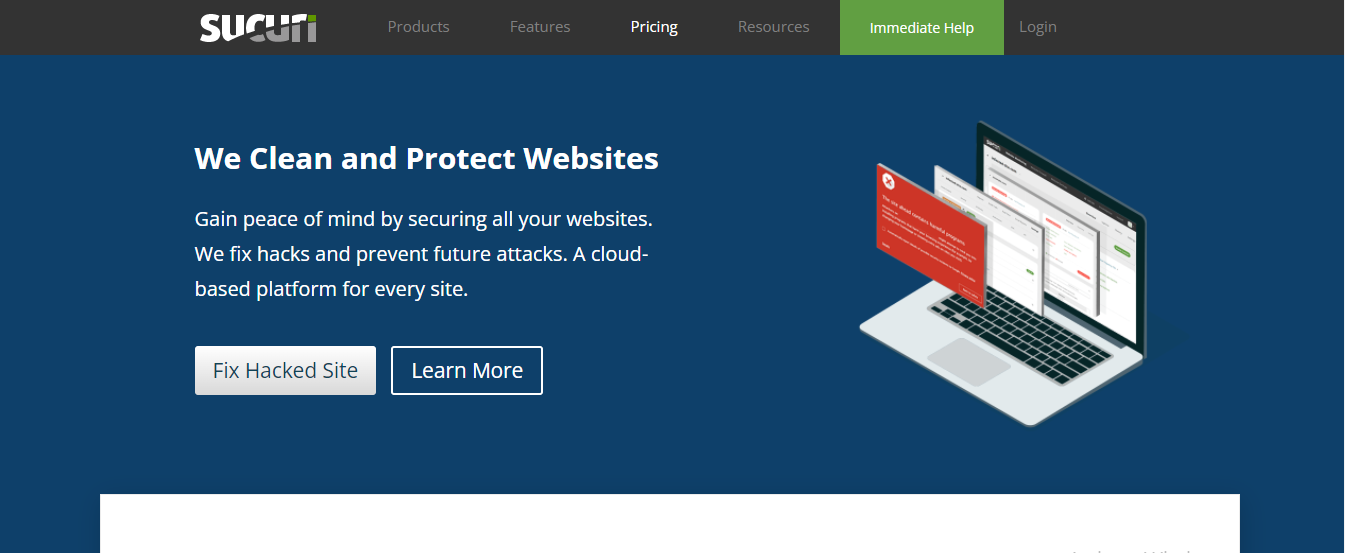 Author: Sucuri Inc.
Current Version: 1.8.30
Last Updated: Jan 2022
Money Back Guarantee: 30 Days
Sucuri is one of the renowned names in digital security including WordPress. This security plugin is capable of securing and safeguarding your website from any type of external or internal threats. By using this plugin you can control and monitor access to your site in a more effective way. From Auditing to malware scanning, everything is so easy to implement on your website.
Benefits include:
Security Audit to check the status and test the security of your website.
File integrity monitoring to check if any file got affected or modified by any type of security threat or malware.
Remote Malware scanning is there to scan and detect malware on your website.
Blocklist monitoring helps you to see who is blocked and who is given access to your website.
Security hardening helps you out to make your website more strong and safe from any malware or security threats.
Immediate security actions are impressive that must be taken after a Hacking attempt.
Regular and prompt notifications to make you aware of any security breach.
Website Firewall is also there to give your website an all-round protection.
Drawbacks and Limitations
Paid versions are not affordable for small business companies.
Sometimes, the website scanning becomes a little sluggish.
Pricing
Basic plan – $199.99 per year
1 website
Website Application Firewall
Security scans every 12 hours
SSL support and monitoring
Premium support
2. Wordfence
Author: Wordfence
Current Version: 7.5.8
Last Updated: Jan 2022
Money Back Guarantee: No
Wordfence security emerges as an impressive option to safeguard and prevent your website from malware and any type of security threats. It possesses the qualities of both a firewall and security scanner to protect your website. You can consider Wordfence as a comprehensive security solution for your website.
Benefits include:
The web application firewall is capable of identifying and blocking certain types of malicious traffic.
Threat defense feed simply updates the firewall rules and malware signatures at regular time intervals.
IP blocklist blocks the requests from the malicious IPs in real-time.
An integrated malware scanner blocks all the requests from a malicious code.
Effective brute force protection.
Checks the integrity of the core files and wordpress.org repository.
Notifies you with an alert when a plugin had been closed to deal with the potential security issues.
Two-factor authentication (2FA) to provide you with robust login security.
Wordfence central to monitor the security of multiple sites from one single place.
Live traffic monitor to track the visits and malicious hacking attempts in real-time.
Block attacks by IP range and Hostname.
Drawbacks and Limitations
Sometimes it messed up with other plugins and make them behave improperly.
The software dashboard is a little confusing.
Pricing
Premium Version – $99 per year
1 License
Real-time Firewall updates
Real-time IP blacklist
Real-time Malware signature updates
Premium support
3. iThemes Security
Author: iThemes
Current Version: 8.0.2
Last Updated: Sept 2021
Money Back Guarantee: 30 Days
iThemes security is among the best website security solution available in the market today. It is power-packed with all the security measures that are necessary to safeguard your website from any malicious codes or attacks. Thanks to its fast and familiar interface, You don't need to be a cyber security expert to protect your website while you are using iThemes security.
Benefits include:
Start protecting your website with a couple of easy configuration steps in a few minutes.
Multiple templates are suitable for different types of websites such as Ecommerce, nonprofits, blogs, etc.
Interactive dashboard to monitor the security of the website in real-time.
WordPress Login security with the implementation of best security practices such as 2FA, ReCaptcha, etc.
Privilege escalation to grant temporary admin-level access to your website in a more secured way.
Network brute force protection to block the offenders.
iThemes security monitors the health of your website by tracking the file changes and by implementing a site scanner regularly at scheduled time intervals.
With version management, you can get auto-updates from your WordPress easily.
iThemes security enforces SSL security and creates database backups at regular time intervals.
Advanced security tools such as server config rules, file permissions, and identifications of server IPs safeguard your website more effectively.
Drawbacks and Limitations
Problems while interacting with certain hosting providers.
To use some features, the .htaccess file needs to be edited.
Pricing
Freelancer $127
Protect 10 sites
All pro features included
Ticketed Email support
Regular plugin updates
4. All in One WP security and Firewall
Author: Tips and Tricks HQ
Current Version: 4.4.10
Last Updated: Jan 2022
Money Back Guarantee: No
All in One security solution is among the security plugins that offer you a simple interface to get familiar with all its functionalities and tools easily. This plugin can be the best option for beginners who are new to the security of websites and want to see what is going on behind the scenes. For that, it takes the help of various graphs and meters to give you insights about the security of the website and recommend you the necessary security measures.
Benefits include:
User accounts security helps you to manage the security of user accounts and enhances the security by password strengthening tool.
Login Lockdown feature protects your website from Brute force attack attacks by blocking certain IP addresses or a range of IPs.
Monitor and view failed login attempts with the IPs, user Id, and time of the attempt.
Create a whitelist of IPs that can access your WP login page.
Add Google ReCaptcha to your login form or forgot the password form.
Minimize the bogus registrations by manual approval for each of them.
The honeypot feature reduces the number of registrations attempts done by robots.
Enable database security for scheduled backups and get email notifications or alerts in case of malicious access attempts.
File system security helps you out to take care of the integrity of the file system of your website.
Advanced Firewall security to strengthen the security of your website.
Security scanner and comment spam security also boost up the security to the top level.
Drawbacks and Limitations
Manual blocking of IPs is not allowed.
Pricing
Free
Regular updates
Premium forum support
5. Malcare Security
Author: MalCare security
Current Version: 4.72
Last Updated: Jan 2022
Money Back Guarantee: No
As the initials of its name suggests this plugin is a malware scanner and remover. This would be helpful when your website gets attacked by any malicious code or attacker and you want to clean up or nullify all the changes.
Benefits include:
Easy to set up and install.
The WordPress malware scanner is there to scan malicious codes that slow down your website.
WordPress malware removal helps you to view the hacked files and clean your site in a couple of minutes.
Simply detects and blocks malicious traffic.
Cloud-based malware scanners identify and block complicated malware.
Real-time protection with a web application firewall that blocks the hackers and the bots to prevent your site.
Smart captcha-based login prevents your website from brute force attacks.
Geo-blocking and server hardening helps out to strengthen the security of your website.
Drawbacks and Limitations
Database scanning is not there.
Backups are not there in the basic plan.
Pricing
Basic – $99
1 site
Auto malware scans
Real-time firewall
Personalized support.
6. Defender
Author: WPMU DEV
Current Version: 2.7.0
Last Updated: Jan 2022
Money Back Guarantee: Unlimited
This is also one of the best WordPress security plugins that are very helpful for those who do not have vast knowledge about website security. You don't need to worry about brute force attacks, hacks, and malware because Defender takes care of all those things in a very simple way and gives you complete peace of mind.
Benefits include:
Two-factor authentication is there with the help of a password and mobile app passcodes.
Login masking hides the location of the default login area.
Login Lockout blocks access when there are a large number of failed login attempts.
Security headers behave as an additional layer of defense.
404 Detection helps to block the IPs of the bots.
With a WordPress security firewall, you can block a list of malicious IPs.
Geolocation IP lockout helps to block the users of a particular location or country.
Effective spam prevention is there to avoid unwanted risks to your website.
Google ReCaptcha is there to stop bogus registrations or frauds.
User-agent banning is also there to block malicious bots and user agents.
Drawbacks and Limitations
Lacks some features such as website security audit management.
Pricing
Defender Pro- $60 per year
1 Website
SEO and white label
Ticket support
Regular updates
7. ShieldPro security
Author: Shield Security
Current Version: 13.0.6
Last Updated: Jan 2022
Money Back Guarantee: 14 Days
Shield Security is a WordPress security plugin that is not so popular and does not have a hyped branding but owns the best security practices and methods to safeguard your website. It has a better performance over some of its competitors that focuses on hyped branding. If you want a security plugin that focuses on safeguarding your website from malicious attacks and hacks then you can go with shield security.
Benefits include:
The Anti Bot detection engine is a powerful tool that can be used against bots.
Automatic IP and bot blocking block the malicious bots.
Advanced login, registration, and password security.
Brute force security and limited login attempts feature.
Powerful and flexible firewall security rules to allow and block IPs or a range of IPs.
Restricted security admin access helps out to prevent and avoid unauthorized changes to your website.
Two-factor security authentication that authenticates a user with Email or Google Authenticator.
Can Easily block any type of anonymous Rest API.
Detect any type of file changes that are happened on your website.
Monitors the activity of the complete site including failed or successful login attempts, User creation, and page updates.
Advanced security control for user sessions to restrict or block multiple user logins.
Drawbacks and Limitations
The plugin admin page consists of disturbing self-promotion.
Pricing
Sield Pro- $89
1 website
All shield pro features
Dedicated customer security support.
Automatic Pro upgrades.
8. Secupress
Author: SecuPress
Current Version: 2.2
Last Updated: Jan 2022
Money Back Guarantee: 14 Days
Secupress can also be a good plugin to charge up the security of your website. SEcupress is not a popular plugin but it is growing and gaining popularity rapidly among people. It has a wonderful user interface and extraordinary security features. The easy-to-use quality of Secupress can be a factor that will be helpful for beginners to configure security measures on their website.
Benefits include:
The security audit feature simply scans out the full website and figures out the security problems and promptly asks you for any necessary actions that are required immediately.
Secupress avoids bad user and failed login attempts and can limit them as well.
2-factor authentication adds higher-level security.
Wonderful user and password control to strengthen the passwords and take care of vague names of users.
Prevents bots from finding the login page of your website.
Detects vulnerable themes and plugins with malicious codes that can create security breach issues.
WordPress core feature safeguards the config file and keeps it highly safe.
Secure block the malicious bad bots to safeguard your website.
Firewall block bad incoming requests, SQL injection, and Brute force attacks.
Drawbacks and Limitations
The cleanup feature is absent.
The configuration is a little confusing.
Pricing
$2.99
Security Alerts and Notification.
Pdf Reports
Constant updates
Premium support
9. VaultPress
Author: Automattic
Current Version: 2.2.21
Last Updated: Jan 2022
Money Back Guarantee: 14 Days
Vaultpress is another very amazing WordPress plugin that can be specifically used for real-time scans and backups. It protects your website from certain types of hackers, malware, and accidental data losses. Vaultpress performs real-time data backups and monitors all the posts, comments, files, and dashboard settings on your website as well.
Benefits included:
Vaultpress monitors all the activities in real-time including the latest changes and performs regular scans.
By default, Vaultpress scans every day for harmful malware.
Restoring the backups is easy and can be done with a single click.
With a single click, it can review malicious and suspicious code on your website.
Browse all the history of the backup and download it with a single click.
Spam prevention is also there to prevent your website from any malicious code.
Drawbacks and Limitations
The backup time is not customizable.
Unlimited backup is only offered in the top plan
Pricing
Security – $12.40
Regular updates
Premium support
10. Bulletproof security Pro
Author: AITpro Website Security
Current Version: 5.7
Last Updated: Jan 2022
Money Back Guarantee: 30 Days
Bulletproof security is a plugin that proactively works out and protects your website from hackers and malicious spam. It works out on each layer of website security and protects all the files and databases from hackers, bots, and malicious attacks.
Benefits include:
Easy one-click setup and installation.
Advanced Mscan scanner to identify any malware on your website.
Firewall for securing the .htaccess file of your website.
Authenticated cookie expiration to save you from any malicious codes in cookies.
Monitors and secures the login for the respected users.
Full, partial, and scheduled database backups.
HTTP Error and PHP Error logging.
Detects malicious files and folders that are not created by you and immediately blocks them.
DBMonitor intrusion detection system to identify any external security threats to your website.
Real-time and automated whitelisting of IP addresses.
Forces strong passwords to prevent your website from malicious login attempts.
Email notifications are sent when there are changes in the existing plugin or themes.
Drawbacks and Limitations
Necessary reports and alerts are not consistent.
Auto backups are also a little sluggish.
Pricing
Pro plan – $69.95
One time purchase
Unlimited installations
Regular and free upgrades for a lifetime
Regular and free support for the lifetime
Conclusion
Now as you have learned the important things that must be kept in your mind before choosing a Security WordPress plugin and based on this learning you can choose the best WordPress security plugin for your website. We hope that this information was helpful to you and you will use it for your more excellent knowledge.