10 Best WordPress Social Plugins In November 2023
The listings featured on this site are from companies from which this site receives compensation. This influences where, how and in what order such listings appear on this site.
Advertising Disclosure
If you own an online business or website and you want to grow it in a rapid space then the first thing you would require is to reach out to more and more people. So the prime question that arises here is 'How to do that'? And the perfect answer is 'social media'. You can use the social sharing plugins for WordPress that can help to increase the traffic on your website impressively. These social sharing plugins are powerful enough to directly interact and engage visitors from the various social media platforms to your website. This can give an incredible boost to the website traffic and online sales of your business by increasing the conversion rate for your website. Apart from that these social plugins also help you to understand what is going on in the minds of the people and community so that you can build and optimize your business strategies accordingly.
Here we have handpicked and compiled a list of the 10 best Social plugins for WordPress that can help you to drive in more traffic to your website from the social sharing platforms.
10 Best WordPress Social Plugins In November 2023
1. Smash Balloon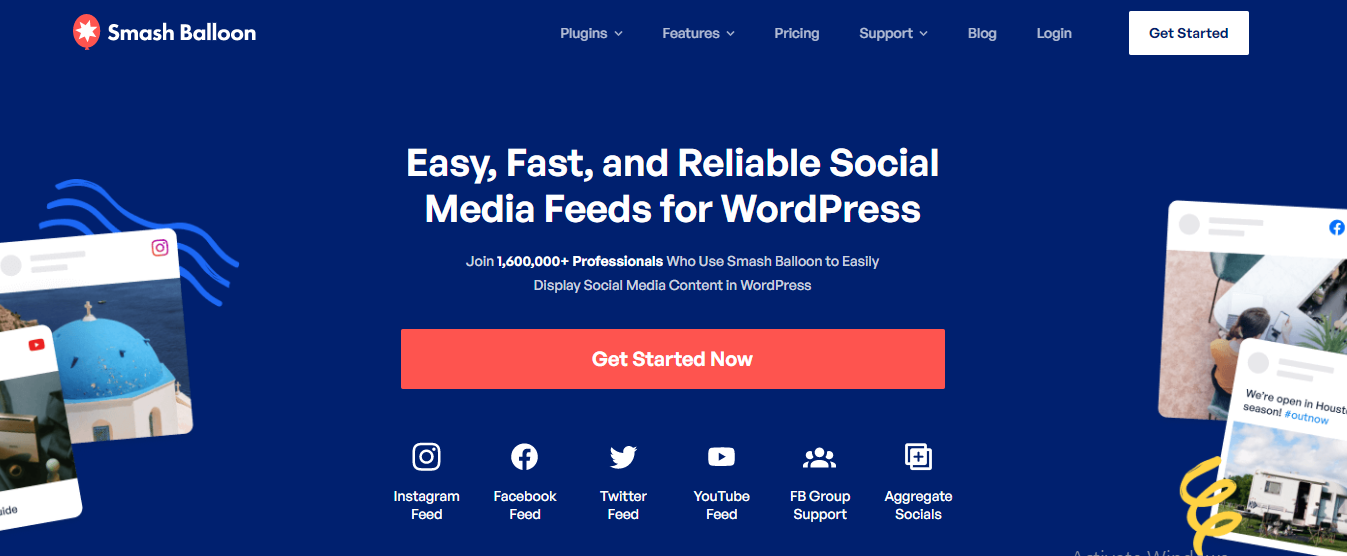 Developer: Live Chat
Current Version: 4.1.2
Money Back Guarantee: 30 days
Free Trial: No
Smash Balloon is the best and the most used Social media plugin for WordPress.It unites all the social media platforms in one place and boards it on your website. It displays all the text and links from the Facebook posts on your website to create a buzz about your website on the social media platforms
Benefits include:
Easy to set up and install.
The social wall feature helps to create a single interactive wall where all the important feeds from your Facebook, Instagram, and Twitter pages are portrayed.
Instagram feed links your Instagram with your website for making shopping easy from your Instagram page.
Customized Twitter feeds help to display the content right from your Twitter account.
Customized Facebook feed helps to include the posts, photos, and live videos directly from your Facebook page.
YouTube feeds will display all the feeds from your YouTube and showcase them as lists, thumbnails, etc.
Likebox Widget and visual Header jointly showcase your Facebook feed on a stunning visual header including the cover photo, profile picture, and the number of likes.
SEO Friendly Behavior is automatically added to your website because the Facebook posts are also crawled up by the search engines.
Built-in cache makes your website ultra fast.
No extraordinary Coding skills are required.
Drawbacks and Limitations
Make your website a little slow.
Likebox widget takes too much time to update the Facebook likes.
Pricing
Facebook Feed Pro : $49
Single site
Unlimited Pro feeds
Multiple feed layouts
Pro support
Regular Updates
2. Shared Counts
Developer: Bill Erickson & Jared Atchison
Current Version: 1.3.0
Money Back Guarantee: No
Free Trial: No
This is a very simple and lightweight plugin that is of great use to increase the traffic on your website. It also enables the visitors to your website to share the posts with other people. It simply tracks down and displays the shared counts of particular posts on a website.
Benefits include:
It is a lightweight plugin that does not overburden your website.
Easy to set up and use especially for beginners.
Built-in Cache boosts the speed of your website by minimizing the queries.
Multiple style options such as fancy, bar, rounded, etc as per your website requirements.
Separate shared counts cache to retrieve the shared counts.
HTTP Recovery option that recovers the shared counts with a single click.
Clean coded and Bloat free.
Drawbacks and Limitations
Being a simple plugin, it lacks many useful features.
Sometimes the buttons freeze down.
Pricing
Free
3. Social warfare
Developer: Warfare Plugins
Current Version: 4.3.0
Money Back Guarantee: 45 days
Free Trial: No
It is a feature-loaded social sharing plugin that can boost the revenue of your website to an impressive level. Social warfare is packed with powerful sharing button options, Widgets, and other social sharing options for that purpose.
Benefits include:
Lots of options for the social sharing buttons for multiple social media platforms such as Facebook, Instagram, Twitter, etc.
Customizable placement for the social media sharing buttons.
Active monitoring of the social share counts including the tweets on the tweeter.
Popular posts widgets that work on the basis of social share counts.
Frame buster for an enhanced level of content protection.
Social counts recovery options to retrieve the lost social shared counts.
Shortcodes to manually place the button anywhere on the post.
Link shortening and campaign tracking analytics to get an insight over the success or failure of any campaign.
Button click tracking is also helpful to track down the number of clicks on a particular social sharing button.
The hover to pin button feature is also helpful as it helps to pin images directly to your Pinterest boards.
Drawbacks and Limitations
Sometimes conflicts with the other active plugins.
Several times the tweet counter stops working and this happens often in a week.
Pricing
$29
Single Site
Regular updates
Reliable support
4. Revive Social
Developer: Boldgrid
Current Version: 9.0.6
Money Back Guarantee: 30 days
Free Trial: No
The Revive social plugin can simplify your social media management with top-notch marketing automation techniques. As its name suggests it simply revives the old blogs, posts, and the network that are essential to keep your website alive. To get the job done, it uses the scheduled sharing options from a wide range of social media platforms or sources.
Benefits include:
Easy setup and simple user interface.
Revive social provides you full control over social sharing options such as titles, links, or texts.
Revive social can not only manage and track the clicks but also the specific campaigns as well.
Has the ability to share different types of content such as posts, pages, and media.
Hashtag optimization is done automatically by this plugin.
You can share your posts any number of times on any specific social media channel.
Scheduled sharing of the posts can be done on specific customized dates.
Multiple customized messages can be added along with various hashtags of your choice.
Drawbacks and Limitations
The Difference between the features of the paid and the free version is minimal.
Supports only the mainstream social media platforms such as Facebook, Twitter, and Instagram business.
Pricing
$88.5/year
Single website
5 RSS Feeds allowed
Share on up to 50 accounts
Regular updates
Quick support
5. Simple Social Icons
Developer: StudioPress
Current Version: 3.0.2
Money Back Guarantee: No
Free Trial: No
Simple Social Icons is a very basic and simple plugin that helps you to place trendy and purposeful social Icons on your WordPress sidebar. These fully customizable icons help your visitors to get connected with your social sharing profiles.
Benefits include:
Easy setup and use.
Multiple customized Button styles to choose as per your choice.
A Very Lightweight plugin that does not overburdens the website.
Icons from different social media platforms.
Simple reordering and placement of the social icons.
Add your favorite icons and place them according to your needs.
Drawbacks and Limitations
It has very basic and minimal features.
Sometimes the icons stop working.
Pricing
Free
6. Add to Any Share Buttons
Developer: AddToAny
Current Version: 1.8.4
Money Back Guarantee: No
Free Trial: No
This is also a great plugin to integrate social sharing buttons on your website that provides an incredible experience to the customers to get linked with your social media profiles. This had the option for multiple social sharing platforms from a single place.
Benefits include:
Social media sharing buttons for various social platforms.
Customizable Floating share buttons with multiple orientation options.
Useful Counters to track the social share counts.
Excellent follow buttons.
Beautiful Image Sharing buttons for sharing Images.
Original and official buttons from the various social sharing platforms such as Facebook, Twitter, etc.
Integrated Google analytics.
Cleanly Code for SEO.
Mobile optimized to perform in a better way on mobile devices.
Drawbacks and Limitations
You cannot create customized pre-populated tweets.
Individual Images do not have sharing options.
Pricing
Free
7. Grow Social
Developer: Mediavine
Current Version: 1.19.2
Money Back Guarantee: No
Free trial: No
Grow Social is another plugin that can be useful for adding social sharing functionalities to your website. You can place social share buttons on multiple social platforms in various different styles on your website.
Benefits include:
Multiple placement options for the social sharing buttons.
Floating sidebar sharing buttons to deliver the visitor an interactive experience.
Social share and total Social share counts of all the social media platforms.
Completely customizable and editable Button Labels.
Social Sharing buttons in the form of Mobile Sticky footer.
Pop up buttons that trigger on visitor's action.
Useful Shortcodes to put the social buttons in the desired place.
Easily track the source of incoming traffic with Google Analytics UTM tracking.
Social media shared posts widget for sharing articles.
Drawbacks and Limitations
Shortcodes do not work sometimes.
Slows down the website a little bit.
Pricing
$34
Single Site
Regular updates
Good Support
8. Sassy Social share
Developer: Team Heateor
Current Version: 3.3.38
Money Back Guarantee: 30
Free Trial: No
Sassy Social Share is another great that enables visitors to your website to share the content on various social media platforms such as Facebook, Google, and Twitter. This is a very simple plugin with sufficient features to get the social sharing job done.
Benefits include:
Multiple social sharing Icons of various social media platforms.
Visualizes the share counts on the social share buttons.
Fully customizable Social Share Icons.
Multiple style Icons such as Round, Square, and rectangular.
Integrated URL shortening options.
Standard and Floating layouts for the social sharing Buttons.
Fully customizable URL targeting option.
Customizable positioning of the social sharing Bar.
Woo-commerce products can be enabled with social sharing.
Smart widgets to showcase the Social sharing stuff.
Useful shortcodes.
Drawbacks and Limitations
Do not support We Chat.
Icons sometimes become white.
Pricing
Pro – $11
Single site
Automatic updates
E-mail support
9. Nextend Social Login
Developer: Nextendweb
Current Version: 3.1.4
Money Back Guarantee: 14
Free trial: No
Nextend is a very useful Social media plugin that allows all the visitors to log in to your website using their social media profiles from Facebook, Google, Twitter, etc. Now instead of spending their valuable time doing sign-ups and new registration they can easily log into your website and enjoy the services. Also, there is no need to create passwords and no need to wait for validation emails to verify the profile.
Benefits included:
One-click signs up and registers with any social media profile such as Google, Facebook, and Twitter.
Login widgets and useful shortcodes.
Personalized customizable designs as per your site requirements.
Smooth and hassle-free integration.
Compatible with more than 10 Social media platforms.
Woo Commerce option for new registration during checkout.
Ready to get translated to multi-languages.
User roles to define a set of rules for specific users such as admin.
Drawbacks and Limitations
Customer support is not impressive
Pricing
$47/month
1 Site
Lifetime update
Personal support
10. Better Click to Tweet
Developer: Ben Meredith
Current Version: 5.10.1
Money Back Guarantee: No
Free Trial: No
This is the most popular click to tweet plug-in that provides amazing quote boxes to the users on your website. These quote boxes can be used by the users to share their views about your products and services directly on Twitter.
Benefits include:
Easy to use with the block code editor and shortcodes
Callback URL to boost traffic on your website
Numerous design and styling options
Link shorteners help to shorten the URLs
Lot of options to create no-follow links and to change anchor texts
The multilanguage translation is available
Drawbacks and Limitations
Link shorteners sometimes work in a sluggish way.
Pricing
Free
Consistent update
Standard Support
Conclusion
Now as you have learned the important things that must be kept in your mind before choosing a Social WordPress plugin and based on this learning you can choose the best WordPress Social plugin for your website. We hope that this information was helpful to you and you will use it for your more excellent knowledge.