10 Best WordPress Live Chat Plugins In November 2023
The listings featured on this site are from companies from which this site receives compensation. This influences where, how and in what order such listings appear on this site.
Advertising Disclosure
During the growing phase of your company, it is important to have some mediums to stay connected with your customers. There are certain ways to do that such as Phone calls or E-mails but these can be considered passive mediums for the customers. In that case, the Live Chat opens up as an active medium to stay connected with your customers even if you are offline. The customer queries, issues, and problems can be addressed 24/7 with the help of a Live chat option and that is also necessary for the business to survive in this competitive world.
Live chat WordPress plugins help to keep you connected with your clients and help you to gather feedback from them as well. Using a Live chat plugin strictly ensures that you do not lose your clients and also helps you to engage new ones.
Here we have handpicked and compiled a list of the 10 best Live Chat SEO plugins that can help you to gather feedback and respond to customer queries, issues, and problems and take instant actions accordingly.
10 Best WordPress Live Chat Plugins In November 2023
1. LiveChat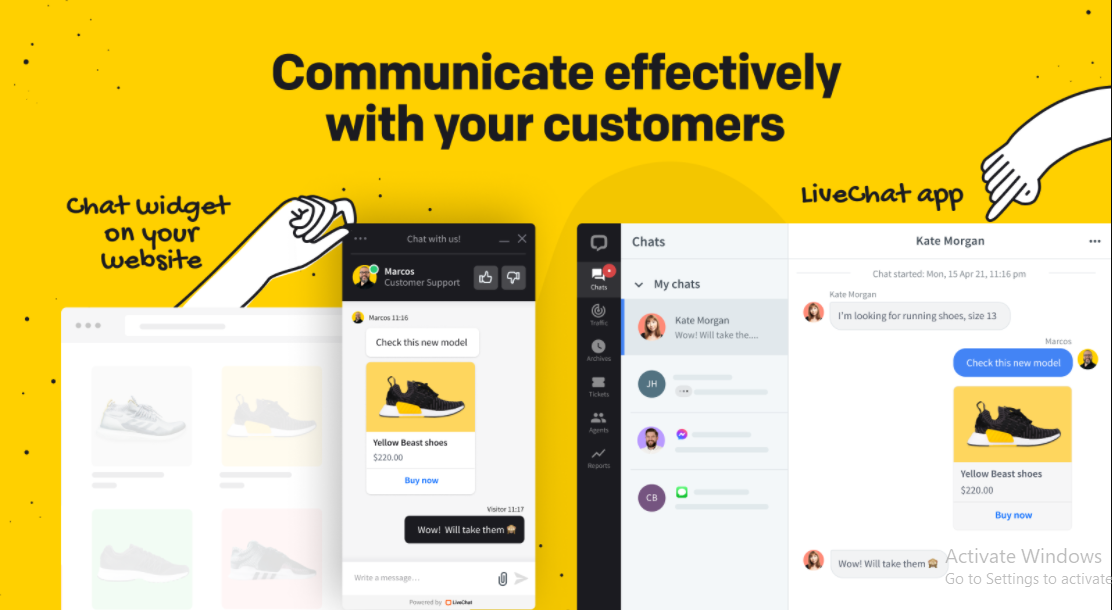 Developer: Live Chat
Current Version: 4.5.4
Money Back Guarantee: No
Free Trial: 14 Days
Livechat plugin is one of the most popular plugins that helps you to get connected with your customers easily. Live chat offers you the convenience to talk with your clients or visitors and answer their queries. The Live chat option can be used through a widget and can also fulfill the purpose of sending personalized messages even in offline mode.
Benefits include:
Integrated Modern chat window helps out to grab the attention of the visitors and connect you to the visitors in an easy way.
Amazing personalization options with customized colors and message styles.
Native integration for WordPress to deliver a wonderful performance in a highly compatible way.
A 24/7 support Ticketing system facilitates to resolve the queries of the customers more responsively.
Proactive greetings and interaction with the customers based on their certain actions on the website.
Effective chat surveys to gather important feedback from the customers or visitors that would help make any required improvements in the services.
Integrates easily with third-party apps and services such as Zendesk, What's App.
Can easily track all the necessary information about the visitors or customers.
Supports 45 languages.
Live chats apps for mobile devices based on Android and ios.
Drawbacks and Limitations
Unnecessary queries during the start of the chat.
Sometimes consumes the critical resources of your website.
Pricing
Team plan : $99
Unlimited chat history
Ticketing System
24/7 support
Premium updates with notifications.
2. Tidio
Developer: Tidio Ltd.
Current Version: 5.0.0
Money Back Guarantee: 30 Days
Free Trial: 14 Days
If you are searching for a live chat plugin that is simple and easy to use, then your search is over now. Tidio is a plugin that has all the functionalities and features of a live chat plugin. Tidio helps you to get connected with your customers to gather their feedback or queries and you can do profitable interactive conversations which are essential to keep your customers happy.
Benefits include:
Track the actions and visited pages of the visitors and personalize your messages accordingly.
Monitor the website in real-time and start interacting with the visitors to turn them into new happy customers.
The live typing feature helps you to know what your customers are typing in real-time to give them an instant reply.
Incoming notifications to engage the visitors when they land down on your website.
You can get connected with your customers instantly on the go by using Tidio mobile apps for Android and ios platforms.
The automation feature helps you to answer the basic queries of your customers even when you are not available online.
Tidio can be integrated easily with third-party platforms as well.
Supports multiple languages
Drawbacks and Limitations
Standard chat is not so effective as compared to an automated chatbot.
High pricing for the automated chatbot.
Pricing
Free plan
2 operators
Monthly chatbot limit up to 100.
Unlimited live chats
Desktop app
Communicator plan : $39/month
Unlimited chats
Live typing
Live visitors list
Premium support
3. Crisp
Developer: Crisp
Current Version: 0.34
Money Back Guarantee: No
Free Trial: 14 Days
Crisp live chat can be a wonderful chat plugin for your website if you want to grow the number of your clients and generate more leads. This as a result would be beneficial to expand your business in an impressive way. Crisp offers the visitors and your clients an interactive way to get connected with you and share their experiences or any queries. Crisp has all the basic and essential features that important for a live chat system that helps to make interactive conversation with your customers.
Benefits include:
An interactive live chat window helps you to make wonderful conversations with your customers.
Automated chatbot to respond to the initial basic queries of the customers.
Real-time notifications to alert you before starting the live chat.
With Live chat options, you can monitor in real-time what your visitors are typing.
Specialized apps for android and ios mobile devices.
Can be integrated with additional plugins to extend the functionality.
Can be integrated with other messaging systems such as what's app, Twitter, and telegram.
Drawbacks and Limitations
Sometimes the chat widget does not load and gets crashed.
A little confusing setup.
Pricing
Free Plan
Live Chat
Team Inbox
Mobile App
Contact Form
Pro : $25
1 Website
Unlimited history
Triggers
Responsive support
Timely updates
4. Olark
Developer: Boldgrid
Current Version: 1.0.1
Money Back Guarantee: No
Free Trial: 14 Days
Olark live chat is one of the most wonderful plugins for you if you are a non-technical guy or if your team does not have sound technical knowledge. This live chat plugin helps you to engage the visitors as soon as they land down on your website. It manages a wonderful interaction between you and your customers so that you can gain more leads and can expand your business.
Benefits include:
Start active chats with your customers in a couple of minutes.
Customized alerts on certain specific actions of the visitors.
Rules related to automatic responses can be configured easily.
Automatic greetings to the customers.
Routing the chats to the respective departments to resolve the queries of the customers.
Craft and configure custom messages depending on the customer's interest and behavior.
Advanced chat analytics with real-time reports on chat volume and customer satisfaction.
Store chat transcripts for future reference.
Chat prioritizing and collection of visitor data from social profiles.
Drawbacks and Limitations
Phone support is not there.
Do not have their own ticketing system but take the help of other integrations such as Helpscout and Zendesk.
Pricing
$29/month
Multiple websites
Priority support
Regular updates
5. Tawk.to
Developer: Tawk.to
Current Version: 0.7.1
Money Back Guarantee: No
Free Trial: Not available
Tawk.to is an excellent plugin if you want to get connected to the visitors and your customers more interactively on your website. You can chat with the clients or visitors can gain valuable insights from their feedback to improve the services and performance of your business. Expand your business by gaining more leads through the help of lively conversations with clients or visitors.
Benefits include:
Easy and simple setup by copying the javascript to the HTML of your website to start the chat widget.
Tracks and monitors visitors on multiple websites through a single dashboard.
Customized and personalized messages to trigger instant greeting messages.
Excellent ticketing system to provide a wonderful experience to the customers.
Supports more than 45 languages.
Supports both Android and iOs devices.
Pre-built Shortcut messages and knowledge base for generating an automatic response to the customer queries.
Group Messaging to interact with a group of individuals.
Message filtering and secure encryption for an incredible and safe chat performance.
Drawbacks and Limitations
The dashboard takes a little time for a new user to become familiar.
The alerts and notifications are inconsistent and do not work while you are not there.
Pricing
Free
Unlimited websites
24/7 support
6. ZenDesk
Developer: ZenDesk
Current Version: 1.4.8
Money Back Guarantee: No
Free Trial: 14 Day
In this online digital if you are not able to respond to the queries and problems of your customers by interacting with them in real-time, your business is not going to grow. Zendesk allows you to make more lively interactions with your customers to respond to their queries and gain the necessary feedback.
Benefits include:
User-friendly dashboard to monitor the user activity and manage the chats accordingly.
Customizable chat widget to fulfill your requirements.
Automatic triggers to reach out to every customer.
Advanced analytics helps you to track down the visitor flow and behavior so that you can target specific customers based on their interests.
Supports more than 40 languages.
Get connected with your customers on the go with the Zendesk android and ios apps.
Can be integrated with Uservoice, Salesforce, and Highrise.
Drawbacks and Limitations
The admin area takes too long to load in.
The customer linking via email is not so effective.
Pricing
Suite Team Plan : $49
1000+ apps and integrations
Data and file storage.
Single Help center
Support through the mail, phone, and online.
7. Live Agent
Developer: Quality Unit
Current Version: 4.4.3
Money Back Guarantee: No
Free trial: 14 Days
Live Agent is a helpdesk and live chat WordPress plugin that has become popular in the last couple of years. Live Agent is a multichannel live chat system that comes with tons of power-packed features and functionalities. Live Agent focuses on better customer service by interacting with customers with amazing live chat options.
Benefits include:
Universal inbox to gather the queries and feedback from the customers and push it in the form of a ticket into your Live Agent.
The hybrid Ticketing system consists of emails, messages, and phone calls to get the issues addressed by you.
The chat widget helps you to interact with your customers in real-time within a few seconds.
Smart reporting helps you to track all the queries, issues, and feedback of the customers and how all these are addressed in real-time.
Supports both ios and android apps.
Real-time visitor monitor track down all the activities of the visitors.
Additional knowledge base to respond to certain basic issues automatically through the chat window.
Drawbacks and Limitations
No chatbot is there.
The knowledge base is not so efficient.
Pricing
Free Plan
7 days ticket history
1 chat button
1 email address
Customer Service
Ticket + chat plan : $29
Feedback management
Real-time visitor monitoring
Standard support
Regular updates
8. Support Board
Developer: Support Board
Current Version: 1.0.0
Money Back Guarantee: No
Free Trial: Not available
As its name suggests this plugin is used to give suggestions in response to customer queries and issues. It is an AI bot-driven chat plugin that automatically responds to user queries with the help of chatbots. This plugin can be the best choice for businesses that want to enhance their productivity and want their basic customer interaction in an automated way.
Benefits include:
Easy and fast installation.
The live chat option helps you to communicate with your visitors on your website easily.
An automated chatbot helps out to generate and respond to certain specific and basic queries of the customers.
The chatbots get activated on the live chat to engage a visitor as soon as he lands down on your website.
Automatically detects and identifies user information while he is logged on.
Integrated Woo-commerce chatbot to deal with shopping queries.
Prebuilt messages help out to answer some basic queries of the customers.
Automations and triggers help out to understand the behavior and actions of the customer and revert accordingly.
Social sharing options are also present there.
Supports multiple languages.
Drawbacks and Limitations
Do not have fully functional data analytics.
6-month support is there even if you go for a lifetime license.
Pricing
$59
One time payment
Lifetime license
Lifetime updates
6 Months support
9. UserLike
Developer: Davis Woswinkel
Current Version: 2.1
Money Back Guarantee: No
Free trial: 14 days
UserLike chat plugin can be an excellent option for those who want to reply to their customer by using social channels such as Facebook messenger or telegram. It is power-packed with all the essential features that Live chat must-have.
Benefits included:
Easy to install and configure.
Customized Full messenger chat window.
Canned messages are there for basic and common questions or issues.
An excellent approach to Data privacy.
Can be integrated with messaging apps such as Facebook messenger, telegram, and what's app.
Switch to a video or audio call with the browser-based calling function.
Smart data analytics to monitor the chat performance and quality of the services.
Can be integrated with business tools such as slack and PipeDrive.
Smart registration forms allow the visitors to enter their details.
Offline contact form for smart registration in offline mode by the customers.
Proactive chat invitations to engage new customers and generate new leads.
Drawbacks and Limitations
Price is not affordable for small businesses.
Integrated channels and agent seats are limited in each of the plans.
Pricing
Corporate : $290/month
10 Widgets, 10 Seats, 3 Channels
Unlimited conversations
Website messenger
Analytics
Premium support
Regular updates
10. Drift
Developer: Drift
Current Version: 3.0.1
Money Back Guarantee: No
Free Trial: Not available
Drift is one of the plugins that are more sales-oriented as compared to its competition and is more attractive with outstanding Live chat features to gain more leads and conversions for the growth of the business. This is a more business-oriented live chat plugin with the ability to monitor visitor information and customer insights in real-time.
Benefits include:
Easy installation and configuration process.
Engaging Live chats helps to convert visitors into active customers.
In-App messages to reach out to the customers in a more focused way.
Real-time notifications to alert you about any visitor actions.
In case you have a small team, there is an offline mode.
Captures Emails for further follow-ups.
Web browser targeting helps when a visitor visits any product or pricing page and at that time Drift tries to display lucrative offers and deals.
Can be integrated with slack.
Customized Bots and chat routing are also helpful.
Can also be integrated with Hubspot, Marketo, Mailchimp, and Zapier easily.
Drawbacks and Limitations
24/7 support is only available with the Enterprise plan.
Every plan has only a single seat option.
Pricing is not transparent as it is not disclosed officially.
Pricing
Pricing is not disclosed. To know more about the pricing and the plans you had to talk to a Drift sales representative.
Unlimited conversations per month.
24/7 support is available in the Enterprise plan.
Conclusion
Now as you have learned the important things that must be kept in your mind before choosing a Live chat WordPress plugin and based on this learning you can choose the best WordPress live chat plugin for your website. We hope that this information was helpful to you and you will use it for your more excellent knowledge.