Siteground Hosting – Review 2023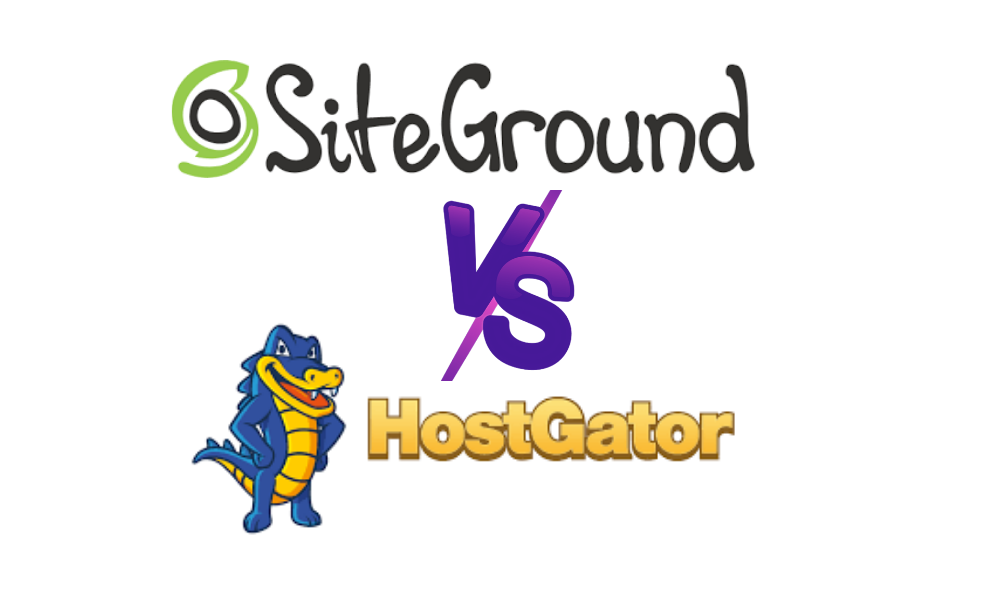 The listings featured on this site are from companies from which this site receives compensation. This influences where, how and in what order such listings appear on this site.
Advertising Disclosure
There are a lot of web hosting providers that are offering tons of features and services to the customers and out of them Siteground and Hostgator are the main players that stand against each other in this competition. These two leading players dealing in hosting services make this battle more interesting each other. So we have tried to make a quick and clear comparison of these two to reach a final factual decision that which of these two is better and in what aspects they beat each other.
Overview
When we take the battle Hostgator Vs Siteground to its extreme both the competitors give tough competition to each other by offering various unmatched features and services in their specific types of Hosting plans. Here we will focus majorly on WordPress Hosting services provided by each of them. Both of them are popular in the global markets and claim 99.9% server uptime and robust performance with fast response. Both of them stand on top of each other in different areas making the competition more tough.
The detailed comparison of Hostgator Vs Siteground given below will help you to find a clear winner in the battle of Hostgator Vs Siteground. And after that you can go for Hostgator or Siteground whichever fits your requirements.
Read Detailed SiteGround Hosting – Review
Read Detailed Hostgator Hosting – Review
Storage
When we talk about storage Hostgator appears as a clear winner as it offers unlimited storage in almost all its plans. On the Other Hand, Siteground seems to be on the losing side with its limited 10Gb, 20Gb, and 40 Gb storage offerings. Both of them use SSD storage disks for quick and improved access.
Siteground
Hostgator
Bandwidth
Both Hostgator and Siteground offer unlimited bandwidth in their plans and stand almost similar when we consider the bandwidth.
Siteground
Hostgator
Server location
Siteground is the clear winner in this aspect as it has its servers in 4 of the major continents of the world. Hostgator loses the battle in this trade as it covers only the North American continent.
Siteground
Hostgator
Speed
When it comes to page loading speed, Siteground again slams Hostgator by a few seconds in the page loading speed tests. Hostgator also provides decent speeds but those are not enough to beat down Siteground.
Siteground
Hostgator
Uptime
Both HostGator and Siteground claim to provide 99.9% uptime but when we analyze the data from the last few years Siteground has performed more reliably as compared to Hostgator.
Siteground
Hostgator
Security
Hostgator and Siteground are serious about the security of their users and cover the necessary security features such as SSH and SSL in their plans. Siteground seems a little dominant as it uses HTTP/2 which is absent in the case of Hostgator.
Siteground
Hostgator
Backups
Siteground emerges as the winner in backups as it offers daily backups and on-demand restores to regain your backup of the last 30 days. And this is included in all the plans.
On the other hand, Hostgator offers weekly backups and charges an additional amount for any restore.
Siteground
Hostgator
Support
Both Hostgator and Siteground offer 24/7 live chat, email, and phone support but when we analyzed the user reviews the response from Siteground support was quicker.
Siteground
Hostgator
Pricing
Pricing is the section where Hostgator clinches its lock and beats down Siteground with its affordable plans.Hostgator Plans are very cheap starting from just $2.75 as compared to siteground.
Siteground
Hostgator
Other Positives and Negatives
Pre-installed Git in Siteground. Not in Hostgator.
In-House caching and staging Area are additional features in Siteground WordPress hosting. These features are not available in Hostgator.
Hostgator offers 45 days money-back guarantee which is more than 30 days of Siteground.
Detailed Comparison
1. Siteground
/month
Established year: 2004
Support: 24*7
Storage: 10 GB
Unlimited Bandwidth
Super Cacher Advance mechanism.
Advanced Firewall
Unlimited databases.
30 Days Money Back Guarantee.
Free Private DNS
Free SSL certificates
2. HostGator
/month
Established year: 2002
Support: 24*7
Unlimited Storage
Unlimited Bandwidth
Free automated migration
Free website builder.
Free dedicated IP
45 Days Money back Guarantee
High-end security.
Free SSL certificate
Conclusion
The Final verdict after making a detailed comparison of Siteground and Hostgator hosting is pretty much clear. Siteground gives you quick speeds, immense features and capabilities especially in WordPress hosting that makes it a clear winner. But on the other hand if you think about affordable plans and unlimited storages, Hostagtor will be a clear choice.It completely depends upon your requirements as both of these two have their merits and demerits.