Bluehost vs Wix – Comparison 2023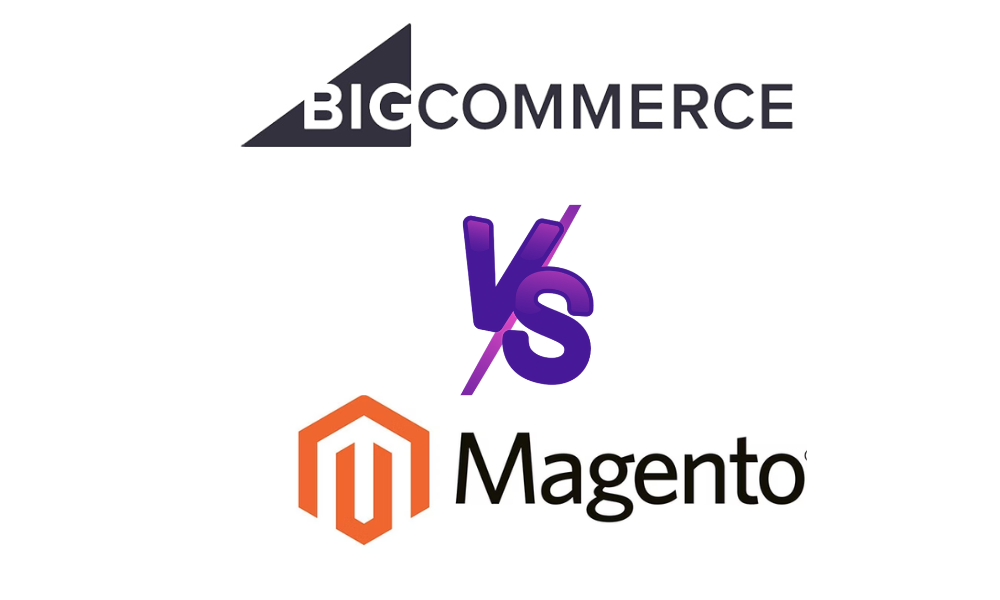 The listings featured on this site are from companies from which this site receives compensation. This influences where, how and in what order such listings appear on this site.
Advertising Disclosure
Bigcommerce vs Magento is a great battle between two giants of the e-commerce industry and this battle becomes more interesting when we compare them on several important aspects of e-commerce services. Both platforms help you set up your online store and start selling your products and services rapidly. But making a comparison and finding out the superior one out of these two is a very tricky task to do.
In this article, we have researched both Magento and Bigcommerce by doing detailed analysis and comparison to find out the winner, when it comes to choosing the best online store builder out of these two popular platforms.
Usability
Ratings(Out of 5)
Magento – 4
Bigcommerce – 4.5
When we talk about Bicommerce it lets you set up things easily and conveniently. Some of the settings take a few clicks and the rest of the job is done automatically. Selecting and installing a feature is a piece of cake while you are working out on Bigcommerce.
On the other hand, Magento requires a more mature technical and coding knowledge along with complex terminologies on each page during setup and installation. It would be very tough for a beginner to figure out many things while working on Magento.
Design
Ratings(Out of 5)
Magento – 3.5
Bigcommerce – 4.5
Bigcommerce offers you unlimited design capabilities by offering 12 free themes along with 50 plus paid theme options. All the themes are industry-specific providing you the complete flexibility to mold them as per your needs. However it takes some time to become familiar with the interface to add products to your store's catalog but once you start doing it, it becomes very easy. Also, the responsiveness of the themes is impressive to deliver a wonderful experience to the visitors on mobile devices.
At the same time, Magento also gives you more flexibility by offering 13 customizable themes but only if you are ready to mess up with some serious coding stuff. You can build your website starting from scratch and perform detailed designing and customization but for that, you need to hire a coding expert.
Ecommerce
Magento – 4
Bigcommerce – 5
Bigcommerce supplies you with most of the eCommerce features that are mandatory for any eCommerce website building platform must have. It has all the in-built tools to build a store that can sell physical, digital, and service-based products.
Some of the features that make it one of the best E-commerce website building platforms are:
Multi-channel integration with Google, Facebook, Amazon, and eBay to sell products through different channels.
More than 100 Currencies of the world are included to sell the products.
Abandoned cart recovery helps to send recovery emails to the customers who left the shopping process due to some reason.
Analytics and reporting help you to keep an eye on the performance of the store along with the tracking and management of campaigns.
On the other side, Magento also promises to give you the built-in key features but it heavily relies on extensions to improve its functionality. It has more than 1900 free extensions that can be used for various kinds of functionalities. The key features that come built-in are :
Customer Login
Staff accounts
Abandoned cart recovery
So if you want built-in tools Bigcommerce is a better choice but if you want unlimited functionalities using extensions then you can go for Magento.
Marketing
Ratings(Out of 5)
Magento – 4
Bigcommerce – 4
Marketing is the key factor that helps to target the customers and boost the sales of the products on the store.Email marketing and Multi channel integration are the two pillar that work for both Magento and bigcommerce. Magento performs smoothly with the support of 120 Email marketing apps that s quite large if we compared to Bigcommerce which supports 29 Apps only. Both of them heavily rely on Email marketing tools such as mailchimp and active campaign.
Apart from that Bigcommerce nails down Magento when we talk about multi-channel integrations. Bigcommerce has built-in selling channels such as Facebook, Pinterest, Instagram, eBay, and Amazon. On the other side with Magento, you need very big pockets to spend on multichannel integrations as they are not built-in. You need to spend hundreds of dollars to add various sales channels like Facebook, Amazon, and eBay.
Security
Ratings(Out of 5)
Magento – 4.5
Bigcommerce – 4
Both the eCommerce players are committed to providing you with unmatched security for a safe shopping experience. If we talk about security patches and updates both of them promise you to provide them regularly. In Bigcommerce you don't need to do anything and all the security patches are downloaded and installed automatically whereas in Magento you need to install these patches by yourself.
In Magento, PCI DSS is provided to you as a standard security feature that helps to secure debit and credit card payments. Magento also provides you Two-factor authentication that enhances the security of your online shopping store.
SEO
Ratings(Out of 5)
Magento – 4.5
Bigcommerce – 4
SEO optimization plays a great role to grab more and more customers to your online store. Bigcommerce offers you all the essential functionalities such as editing page titles, meta descriptions, customizing URLs, and adding alt text to images.
At the same time, Magento provides you with all these SEO functionalities by spending some additional costs. You need to install third-party apps to work out and improve the SEO.
Payment Options
Ratings(Out of 5)
Magento – 3.5
Bigcommerce – 4.5
When we talk about payment options Bigcommerce has a large set of payment windows to offer. It includes all the giant payment platforms such as Paypal, Stripe, Amazon pay, etc. Integrating a payment gateway in Bigcommerce is also much easier and it takes just a few simple steps to configure the payment settings.
On the other hand, Magento needs third-party integrations to use a specific payment platform. Of course, third-party integrations have a lot of versatile options to choose but all of them are the third party.
Support
Ratings(Out of 5)
Magento – 4.5
Bigcommerce – 4
Bigcommerce is committed to giving you 24/7 and live chat support that is quite helpful in case of any serious issues that cannot be fixed by yourself. The support is quite reliable and responsive when you consider the base plans of Bigcommerce. Also, priority support is offered in the enterprise plans that include support by a team consultant via phone call.
On the other side, Magento also has a reliable support team that can be contacted through a phone call or raising a ticket regarding your problem. But Magento jumps one step ahead when it comes to troubleshooting with tutorials. There are a lot of tutorials available that comes in quite handy to solve common issues and problems.
Pricing
Ratings(Out of 5)
Magento – 5
Bigcommerce – 4
Magento is an open source community platform that can be used without spending a single penny but you have to spend a decent amount on the development of your website. You only have to spend a few hundred on your required extensions and the hosting plans are also affordable ranging from $10 to $100.
On the other side, Bigcommerce is a little bit higher in price and it offers various plans that are restricted on the sales threshold of your website.
Standard: $29.95/month
Plus: $79.95/month
Pro: $299.95/month
Pros
Magento
One-time payment
Multi-store management
Multiple extension options
Bigcommerce
Easy to use
Multiple payment options
Cons
Magento
Technical expertise is required.
Takes too much time to launch and build a website
Bigcommerce
Less flexible
Thresholds on sales
Detailed Comparison
Conclusion
The Final verdict after making a detailed comparison of Magento and Bigcommerce in simple words is that if you are looking for a Website builder with tremendous capabilities to design a Ecommerce store, then you must go with Bigcommerce but if you are looking for deep and detailed designing without considering the additional cost for hosting, extensions and themes then you must surely pick Magento.