How To Install An SSL To WordPress Website?
Last Updated: October 5, 2023
Posted in: Guides
The listings featured on this site are from companies from which this site receives compensation. This influences where, how and in what order such listings appear on this site.
Advertising Disclosure
Are you looking forward to a tool that can ensure the security of your WordPress website? If yes, just add an SSL certificate to your website now. SSL Certificates are supposed to be an assurance to WordPress security. Secure websites usually tend to have higher regard as per ranking. Whenever a website comes with HTTPS as a prefix, it assures users about its security. The majority of visitors prefer to visit secure websites only. It simply means that if your website is coming up with an HTTPS prefix, it will build up a level of trust among your visitors and hence ultimately will help you in improving your website ranking.
How to Install an SSL Certificate?
If you are willing to add SSL certification to your website, we are going to provide you with two different options for the same. You can easily check any of these as per your preferences.
Method 1: Install a Free SSL Certificate
If you are willing to add free SSL certification to your WordPress website, we will prefer to make use of Let's Encrypt for the same.
Point your domain at Kinsta and follow up the detailed process given below:
Make a secure login to your MyKinsta dashboard and then tap on the Your Sites option to check your preferred site.
Just tap on the site name and you are willing to add free SSL certification.
Once done, now go to the Enable HTTPS option and follow by tapping on Tools.
Next, tap on Generate a free HTTPS Certificate option to go further with the process.
Users must need to have at least one live domain pointed at Kinsta for enabling free SSL certification here.
Your SSL certification has been successfully installed and your site will be perfectly secured now.
Method 2: Install Custom SSL Certificate
For enabling it, the things you have to follow on are:
Search in the marketplace for a trustable vendor for purchasing an SSL certificate.
Users are usually asked to provide the server type while making the final purchase of an SSL certificate. You can provide your web server's name here
Next, you have to generate a CSR code and RSA key for creating or making a secure sign in to the certificate file.
You will have to add different information here. Just make sure to fill up every field very carefully.
Once done, the form will generate your private key and the CSR. Save both these options to get access to your SSL certificate in the future.
Next, upload your CSR with your SSL provider for regenerating your SSL certificate.
Next, make a secure login to the dashboard and then tap on a site.
Go to the Tools option and then press the Add Custom HTTPS Credential option there.
For using custom credentials, you have to add a .key and a .cert file.
Once done press the Next button to proceed further with the process.
Once done, it will offer you the freedom of adding your private key and certificate.
The .crt file and a.ca bundle file will be sent to you by the provider. Just paste these contents to your .crt file in the Certificate section first, followed by adding the same in the .ca bundle file.
Once done, tap on the Apply Certificate option to get the customized SSL certificate to your WordPress Website.
In addition to these use Really Simple SSL Plugin which helps with the mixed content fixer. Enable the plugin and set the 301 redirect to https. So, that it will auto-redirect the website from HTTP to HTTPS.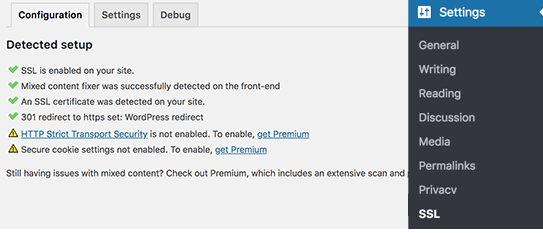 Know more about SSL Certificate
What is an SSL Certificate?
SSL is an acronym being used for Secure Socket Layers. It is a global standard security technology that enables encrypted communication between a web server and a web browser. SSL certification includes key pairs to authenticate website access and that are a public key and a private key.
The public key is a key that can be easily accessed by anyone whereas the private key is the one that offers users access to encrypt information that is transmitted through the public key. It means that one can easily use the public key to verify whether the site they are going to access is secure or not.
The presence of an SSL certificate assures visitors that you have installed both of these keys on your websites and also informs them that the information between the browser and the server is encrypted.
The integration of the SSL certificate changes the looks of your website. The websites usually come up with a prefix HTTPS rather than HTTP in general and a padlock is also starts appearing whenever you visit the site in your browser.
The secure socket layers present in the SSL certificate encrypt the transmitted data and hence protect visitors from different types of ongoing frauds. The presence of an SSL certificate makes it difficult for the hackers to snoop or steal information of the visitors anyhow.
An SSL certificate usually binds the following two things together:
A Domain name, hostname, or server
Organization's identity and its location
Why add an SSL Certificate to a WordPress Website?
Why use SSL certification for our WordPress website? If this is the same question recently buzzing around your head; here we are with very few reasons that will help you in knowing more about the wonderful benefits of this certification.
High-end Security
The very first benefit of using an SSL certificate for a website is it ensures the high-end security of a website. The addition of SSL certification to a WordPress website makes it quite difficult for everyone to encrypt your transmitted data and hence ensures the security of data being stored at your website. So, whether you are running an e-commerce store or you are going to collect any kind of user's information, it gets quite essential for you to have SSL certification to your website.
SEO Benefits
SSL certification works magically for the SEO of your WordPress website. Google prefers the sites having SSL certification and tends to rank them usually high. SSL certification is free. The addition of the SSL certification ensures users about the security of the data being included at your website and hence builds up a level of trust with them.
Best Hosting Provides Who Give Free SSL Certificates
If you are looking forward to having free SSL Certificates for your WordPress Website, you can easily check out the mentioned best hosting provides for the same:
Bluehost is one of the powerful web host providers that power more than 2 million websites globally at this moment. It is the best all-around service provider that is well known for providing absolute customer support, greater uptime, and affordability.
If you are looking forward to a hosting provider with free SSL certification, Hostinger is one of the most efficient web hosts you can trust. Hostinger is well known for providing shared hosting services at just the cost of about $0.99 per month.
A2 Hosting has been grown quite faster in the last few years and the reason is the greater affordability, amazing customer support, and free SSL certification it offers its users. The hosting service is being partnered with Let's Encrypt that ensures users have automated SSL certificates at an easier end.
HostGator is another wonderful name in the series of the best website hosting providers that ensure users have 99.99% uptime. The hosting service provides free SSL certificates to the users on its all hosting plans.
SiteGround is one of the most reliable hosting providers that provide Let's Encrypt SSL certificates to the users absolutely for free to its all plans.
Conclusion
Adding an SSL certificate to a WordPress website is not difficult. One just needs to follow up a very few steps very carefully to enable the same. We have enlisted above the two different methods for getting the same. Hope it will help you in making your WordPress website secure.