How To Hide The Widget Title In WordPress?
Last Updated: November 29, 2023
Posted in: Guides
The listings featured on this site are from companies from which this site receives compensation. This influences where, how and in what order such listings appear on this site.
Advertising Disclosure
In WordPress, the widget available allows a user to add more content and elements to the web pages. For all the beginners, it is quite easy to create different layouts on their Websites easily. Moreover, it also allows a user to add a title that gives visitors an idea about the content so that they can easily understand whether it is their choice or not. Basically, it will be going to act like a way through which one can easily understand the content available on the website.
But sometimes the problem arises when a user is not ready to come up with the title at the top of their Website. At that particular moment, they look forward to the methods through which they can hide the widget titles. On online portals, there are several methods available that will allow the user to do it easily. But all those methods are not trustworthy.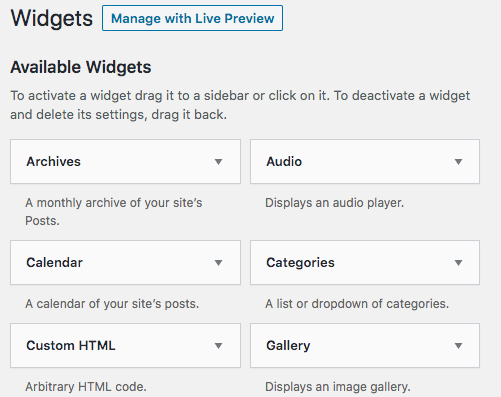 If you are a WordPress user and are looking forward to hiding the widget and you are not sure how you can do it, then dig up this content so that you will get the best method to do so. Here we will be going to enlighten the best methods that will help you in dealing with it.
Methods to Consider
Leave the Widget Section Blank
When you are drafting the content for Website, it is a suggestion that leaves the widget section blank. It is not a practical way to do so, but it hides the title. There will be no need for you to feel like that, it is creating unnecessary trouble for you. When you leave this section blank and review the website, later on, it is not sure whether the widget will get hide from it or not. Thus, there might be a chance that you feel like it is not working in your favor but do not feel disappointed. Here some other methods are also explained that will help you to do it easily.
Use of Plugins to hide the Widget Title
If you know-how, you can use plugins to hide the widget titles, no trouble will be created for you. In this, there are several steps that are important for you to follow. But before you will look forward to using the plugins, it is important for you to get available widget options. In case the widget options are not there, then you will not be able to extract the result from this method. Hence, check out the online portals and get available widget options for your website.
One such plugin is Widget Option, you can Control your sidebar widgets more! But, before that, you need to know more on WordPress Plugins
Now the time comes to explore the steps that will let you hide the widget title easily without any trouble.
Steps to consider:
In order to handle this, it is necessary for you to follow some essential steps without skipping it. Let's have a look at the steps below and make use of it.
At the very first, a user needs to install the widget options.
After installing the widget options, activate them.
After the activation is completed, look forward to the appearance of text and widget area in the WordPress admin area.
After it, drop and drag the widget to the sidebar or any other widget-ready area available on your site.
After doing so, you need to click on the gear icon.
After clicking on the gear icon, click on check to hide widget title option available and then click on the Save button.
And this is it. When you review the site again, the search box for WordPress will appear, and the widget title is not available there any longer.
You need to understand that you are not missing on any of the steps available. If you are missing any of the steps, then the widget will not hide from your Website and feel disappointed for no reason. Thus, check out the steps thoroughly and then move ahead.
One can use this plugin whenever they want to hide the widget title. It is not important that you can hide a specific title with it. This plugin comes up with multiple settings that will allow you to hide or display titles according to your requirements. Moreover, it also depends upon the page and post type and the screen size available.
CSS Coding
Highly recommended if you have CSS and HTML knowledge
Apart from it, all the users can include the use of custom CSS code to hide the widget. Yes, you read it right. But the developer or the user needs to understand the custom CSS code whenever they wish to hide it. In case they are not available with the same, then they cannot do it at all. Moreover, being a user, it is also important to get enough knowledge about the CSS code so that in case they are using this method, then it can get completed easily.
But before you go for it, you need to understand that this is not a practical way to do it. It depends on coding, whether it will come out with successful results or not. Hence, it is the suggestion that whenever you wish to hide the widget, the use of the plugin is the best one for you to consider. It will not let you feel disappointed in any case, and all your requirements will get fulfilled. Moreover, as we have discussed earlier, the plugins you can use hide any of the titles. Therefore, there will be no need to end the disappointment and feel like you need to add the widget to your WordPress site.
Conclusion
Let's mark the end of this article, and we hope that we can solve your problem when you wish to remove the widgets from your WordPress. If you wish to know something more about it, then do let us know in the comments section below. We will get back to you with the solution for the same so that you can easily hide it and get onto it easily.