How To Create A 301 Redirect In WordPress?
Last Updated: October 5, 2023
Posted in: Guides
The listings featured on this site are from companies from which this site receives compensation. This influences where, how and in what order such listings appear on this site.
Advertising Disclosure
Using WordPress is always fun. It comes with many features for its users that there is nothing for them to worry about the cost of one can have a direct look. Redirect is a way in which a user can send quick messages to readers about the website and tell them that it has been moved from this location to another. The browser will automatically point to the new page, and a user can get access to it easily. There are different types of redirects available, including 301 redirects, 302 redirects, 307 redirects, and so on. Among all the redirects 301 redirects are one of the important ones for a user to understand.
You might be thinking about why it is the best one to have. Then don't worry. Within a while, you have a clear answer available and get an idea of how you can use it for better results.
How to Create a Redirect in WordPress?
There are different methods available for creating redirects in WordPress. One can do it with plugins and .htaaccess file coding as well. And some others including coding are also there. Here we will be going to discuss plugins and .htaaccess file methods.
1. With Plugins
With plugins, it is quite easier to create the 301 redirects in WordPress. These are direct and there is no need for a user to engage in any coding.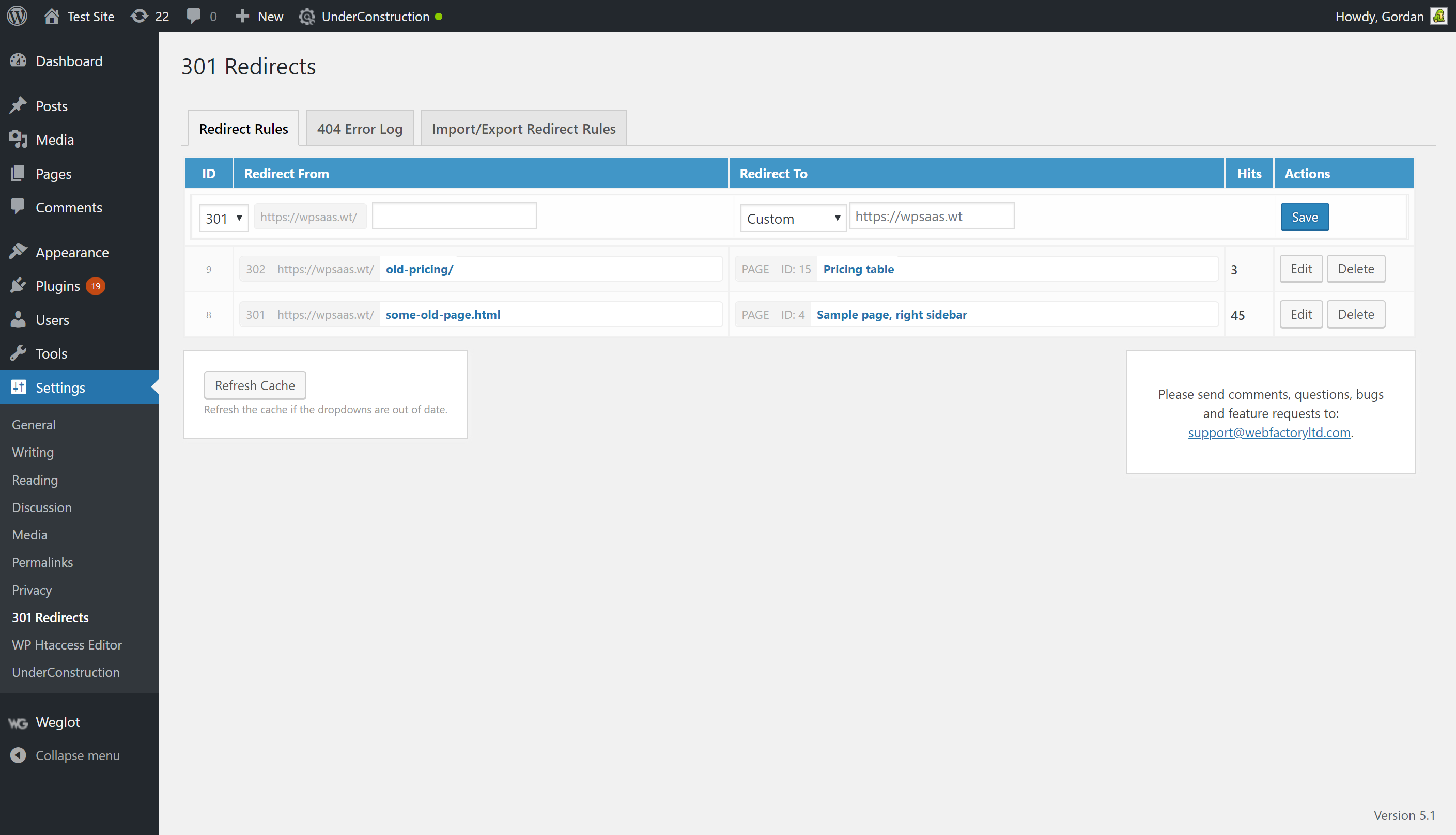 Redirection hits in the simplest ways whenever a user wants to add and manage redirection in WordPress. It will install and activate the plugin, and after it, users will be able to set up the redirect.
It is quite interesting to see that it will resolve the 404 errors on the WordPress site. After resolving the issues, a user can redirect these URLs to the appropriate destination.
Page links to option is also available for all those when a user wants to keep a post or page. But still want to add a redirect to another post. It indicates that it is by function. Your earlier post is also saved, and access will be going to get an idea about the new one as well first off this is one of the simplest plugins to add on the post editor screen where a user will be able to mention the address of the new location.
Simple 301 redirect also hits in the category of easiest ones because this will allow you to add URLs directly without engaging in any complicated procedure. You just need to use it and depending on the WordPress hosting provider, users will be able to understand it. Within seconds it will start working.
These are the login redirect methods that one can consider. These are quite slow but yet the best and easiest one to have. If you are looking forward to some faster redirection, then you can go for the .htaaccess file method.
2. With the use of .htaaccess file
The second method hits in the list is using the .htaaccess file. With the help of this one, the user will be able to set up the 301 redirects fastly. A user needs to understand that they are attentive because if there is an error in the code, the WordPress site will become inaccessible. Moreover, some internal server errors will also appear on the screen. Moreover, you need to back up the data before making any changes because if you have missed, don't know anything, and have no backup available, you will not be able to get access to the files. When it comes to editing the file, one can use Notepad and do it easily.
The coding method is also available for adding 301 redirects. But sometimes these become quite complicated for a user. So, the user should be aware of this.
More about Redirect issue
Let's just mark the end of this article, and here we have the methods available for adding 301 redirects easily. 301 redirects bring out the best for users, and there is no need to look for files somewhere else. When these redirects are added to a particular website or content, a user can easily understand that this is a particular destination where the file is available. Moreover, the search engine will also identify it and allow a user to reach the destination within a while. It works automatically, and a user just needs to add it to the site. Until and unless they are not adding it to the site, users will not get an idea about it at all.
When it comes to looking at the features available, the list is so long that one can choose from pages, custom post type, archives, and so on. One can easily set a custom destination URL so that a user can get an idea easily. Additionally, the query string will get retained across the redirect. Make sure you are attentive to the method you are following so that users will not be disappointed in any case and can easily get the details about the post or content.