GoDaddy Vs Wix – Comparison 2023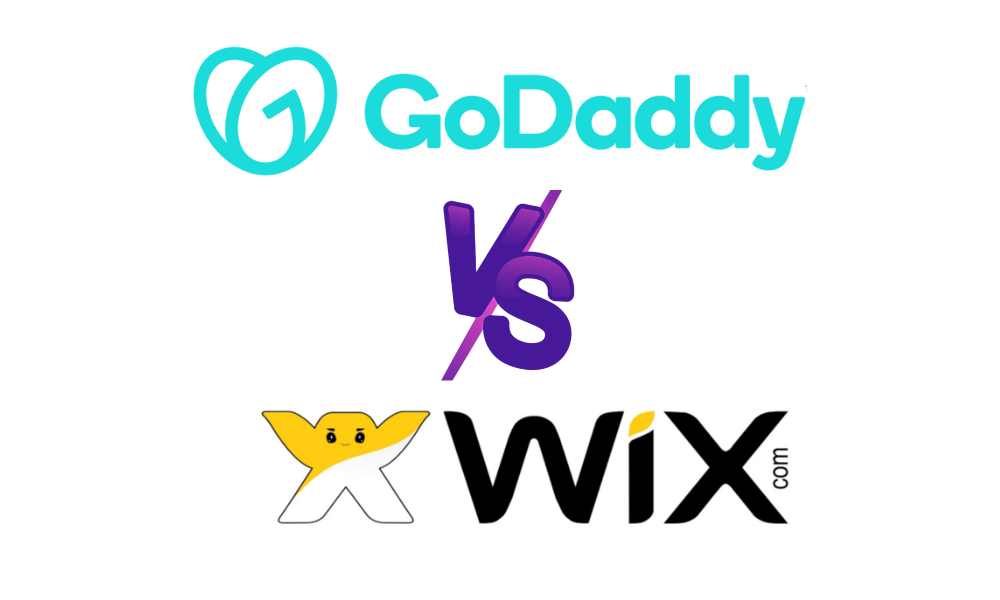 The listings featured on this site are from companies from which this site receives compensation. This influences where, how and in what order such listings appear on this site.
Advertising Disclosure
In the modern age of web development and web hosting, there are a bunch of innovative companies that promise to deliver unmatched website building and web hosting solutions to your doorstep. And when you start a search to pick the best one available in the market, your search will probably end on Godaddy vs Wix. A few questions will immediately click in your mind as given below:
What is the main difference between Wix and Godaddy?
Is GoDaddy better than Wix?
Wix vs GoDaddy pricing?
In this article, we will make a detailed comparison of Godaddy vs Wix and will compare them in various aspects to see which one of these two is better than the other.
Actual difference between Godaddy and Wix?
Both Wix and Godaddy have popularly known for their website hosting and building Solutions but their approach to providing these solutions is a little bit different. Godaddy is more focused to deliver you excellent web hosting solutions. Although it has website building tools and capabilities to build and design beautiful working websites. At the same time, Wix tries to put strong efforts into website building and gives you amazing design tools to create your website in your style. Web hosting solutions can be considered complimentary when you talk about Wix.
Usability
Ratings(Out of 5)
Wix – 4.5
Godaddy – 4
Both Wix and Godaddy are committed to providing the ease of use that you need to build your website from the scratch phase. Godaddy offers you its ADI(Artificial design intelligence) builder that guides you to easily set up your website by asking for some general information from you. Godaddy uses blocks in its design templates that are more structured and a little expertise is needed to work on them.
On the other hand, Wix assists you with tips and hints to develop an extraordinary website from the scratch phase. Moreover, the design template in Wix gives you more freedom to portray your ideas on your website by following simple and easy steps. This thing is a plus point for beginners who do not have much experience in Website building.
Design
Ratings(Out of 5)
Wix – 5
Godaddy – 4
Both Godaddy and Wix provide you with the Best web designing tools that are quite simple to use. Wix offers you more than 800 design templates that can be used for different kinds of industries such as fashion, sports, music, etc. Wix has a main Drag n Drop editor that gives you complete freedom to design the website elements in your desired fashion. You can easily place and adjust an element in the way you want. But you cannot change the template once you have published your website and this is the major drawback of Wix. If you publish your website and want to change the template, then you have to start from the scratch phase again.
On the other hand, Godaddy uses ADI to build your website by using the website requirement information provided by you. But the designing templates are block-based and it is not easy to build your website elements using those blocks. The ADI helps a lot to make the process of website designing easy and wonderful but if you want detailed personalization and tweaks then it is not possible with Godaddy.
Integrations with Apps
Ratings(Out of 5)
Wix – 4
Godaddy – 3.5
When it comes to third-party integrations Godaddy seems to be lagging in front of Wix. Godaddy offers basic and limited integrations to third-party apps including some of the major social media platforms. At the same time, Wix offers you more advanced integrations to the third-party apps and there are a lot of third-party apps available for various platforms.
Marketing
Ratings(Out of 5)
Wix – 4
Godaddy – 4.5
After building your website the next important thing is to do marketing to make awareness about your products and services. Now Godaddy starts playing aggressively here and it offers specialized marketing tools and options such as a marketing planner, E-mail marketing, and social media content creator. The Facebook sync option is also provided by Wix to connect your website with your Facebook page.
On the other hand, Wix also offers similar types of marketing tools such as Wix ascend and Email marketing along with linking it to Instagram and Facebook for brand promotion.
Overall we can say that Go daddy provides many marketing tools without an additional cost along with a newsletter to win this deal.
SEO
Ratings(Out of 5)
Wix – 4.5
Godaddy – 4
Both Godaddy and Wix supply you with the SEO wizard and essential SEO tools to implement the SEO tactics efficiently. Godaddy offers you the basic SEO functionalities to work out on page titles and meta descriptions. The paid plans strengthen your SEO approach by providing the SEO wizard that helps you to automate the SEO implementation.
On the other side, Wix boosts your SEO strategy by providing you with advanced SEO functionalities such as setting up 301 Redirect and sculpting rules for the better optimization of the text. Along with that, the essential SEO practices are similar to those of Godaddy.
Support
Ratings(Out of 5)
Wix – 3.5
Godaddy – 4.5
Godaddy and Wix both provide you with great support in case of any issues. Both of them promise to give you 24/7 support through live chat, email, and phone. But Godaddy wins the race by delivering an immediate response from the support team in case of any issue.
At the same time when you look at Wix, the support was not as expected and it took too much time to get a response from the team. The calls are also not entertained and you have to wait for a callback.
Pros
Wix
Beautiful advanced templates
Advanced CRM for business purposes
Free plan
GoDaddy
Instantaneous support
30 days trial
Cheap affordable plans
Cons
Wix
The site is not transferable
You cannot interchange the templates.
Support is very poor
GoDaddy
A limited number of templates.
Low level of customization.
Basic SEO functionalities.
Pricing
Ratings(Out of 5)
Wix – 4
Godaddy – 5
Pricing is the section where GoDaddy completely beats down Wix by its cheap and affordable plans that looks quite purposeful to build and host your website in an efficient manner.
Detailed Comparison
Conclusion
The Final verdict after making a detailed comparison of Godaddy and Wix in simple words is that if you are looking for a Website builder with tremendous hosting capabilities in a very affordable price then you go for GoDaddy but if you are looking for huge capabilities of customization while building your website then you must surely choose Wix.