Bluehost vs Wix – Comparison 2023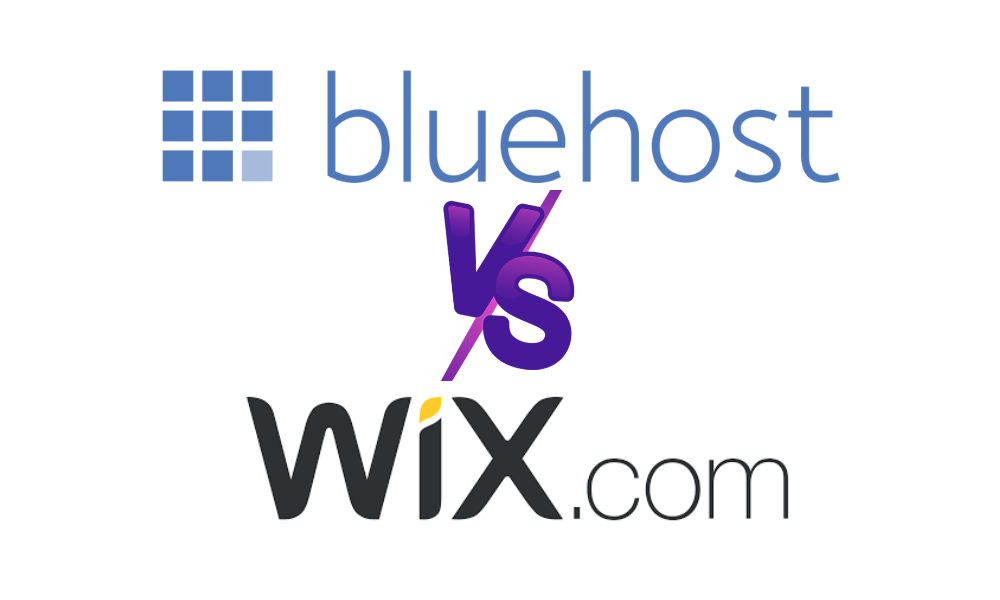 The listings featured on this site are from companies from which this site receives compensation. This influences where, how and in what order such listings appear on this site.
Advertising Disclosure
Wix and Bluehost are two of the popular giants of the IT industry that are committed to offering extraordinary services to online businesses, companies, and organizations. But the comparison of Wix vs Bluehost is a little odd as both of these are known to provide different kinds of services. But we will try to distinguish between their services and will also figure out some of the common things that they supply.
In this article, we will make a detailed comparison of Bluehost vs Wix and will compare them in various aspects to see which one of these two is better than the other.
Actual difference between Bluehost and Wix?
Wix is one of the most popular names in Website designing and building to create beautiful stunning websites. Apart from that, it offers several hosting plans as well to make your website live instantly after its creation.
On the other hand, Bluehost is completely focused to provide you with the best hosting services among its competition today. Other than this, it also provides you the options to build your website using your favorite CMS.
Usability
Ratings(Out of 5)
Wix – 4.5
Bluehost – 3
Wix has made its name popular among beginners for website designing and building. Thanks to its simplicity, a person with zero knowledge of website building can also create spectacular websites using Wix. Wix has a non-complex structure that encourages new beginners to instantly start building and managing websites without any hassles or Coding expertise.
On the other hand, Bluehost also ensures that it becomes easy to work out on its web builder but it is not as simple and basic as Wix to try your hands on it. This is because they have provided the website builder as a complement with basic designing and web building tools.
Design
Ratings(Out of 5)
Wix – 4.5
Bluehost – 3.5
Wix provides you with amazing templates to start designing your website from scratch without any coding experience. There are more than 500 ready-made beautiful customizable templates on offer that are enough to fulfill the requirements of any website categorized for a specific purpose. The Drag n drop editor is a boon to the newbies that makes website designing a child's play. Also, the Wix ADI cooks your website in your desired fashion within minutes using the information provided by you.
At the same time, Bluehost does not supply pre-built templates and at this point, it loses the hunt with Wix. The website builder of Bluehost is not capable enough to personalize and build your designs. Although Bluehost has the flexibility to use WordPress for designing and building purposes, but you need an expertise in coding to work on WordPress designs and templates for further customizations. However, you can deeply customize your website using Bluehost with WordPress themes.
Performance
Performance is the most important factor where both of them try to impress the users with their services and reliability. We tried to analyze and compare their performance based on certain aspects.
1. Uptime
Ratings(Out of 5)
Wix – 4.5
Bluehost – 4.5
When we tried to analyze the uptime for both Wix and Bluehost the result was almost similar. Both of them gave an excellent 99.9% uptime.
2. Response time
Ratings(Out of 5)
Wix – 3.5
Bluehost – 4.5
Wix and Bluehost gave neck-to-neck competition to each other but in the last, we get Bluehost as the winner with 365ms as compared to 450ms of Wix.
3. Speed
Ratings(Out of 5)
Wix – 4
Bluehost – 4.5
If we talk about Wix, the LCP(Largest contentful paint) comes to be 2.65 sec which is slightly above the recommended 2.5 sec. The Wix website took 3.5 sec to become fully interactive and that's quite impressive.
On the other side, Bluehost slams Wix in terms of webpage loading speed. The LCP for Bluehost was 1.9 sec which is excellent in the competition. The time to become fully interactive is 1.8 sec which is also unbeatable in the competition.
Security
Ratings(Out of 5)
Wix – 4
Bluehost – 4
When it comes to security Bluehost as a hosting provider dominates Wix, as it provides security features such as SSL and DDOS protection for your websites. Most of the security features by Bluehost are completely manageable but would drill your pocket with additional costs.
The Primary security Features of Bluehost are:
SSL
Additional firewall.
Backups
On the other hand, Wix as a focused website builder believes in providing all the security features in an integrated form. The Primary security features that Wix offers are:
PCI Compliance
SSL certificate
24/7 website monitoring
2 step verification
Support
Ratings(Out of 5)
Wix – 4.5
Bluehost – 3.5
If we consider the support of Wix it offers only a ticketing system to inform about any issues for support. There is no live chat or phone call on offer to instantly get connected with the support team. Although your requested tickets are responded to quickly by callbacks without taking up days.
At the same time, Bluehost has plenty of responsive support with LiveChat and phone call options. The agents will immediately get connected with you and will help you in resolving your issues.
Pros
Wix
Easy to use
Highly customizable
Bluehost
Cheap and affordable
Relaible server resources
Can be integrated with wordpress
Cons
Wix
Weak server resources
Expensive plans
Bluehost
Designing is complex
Additional cost for many tools and features
Pricing
Pricing is the section where Bluehost completely beats down Wix by its cheap and affordable plans that looks quite purposeful to build and host your website in an efficient manner.
Ratings(Out of 5)
Wix – 4
Bluehost – 5
Detailed Comparison
Conclusion
The Final verdict after making a detailed comparison of Bluehost and Wix in simple words is that if you are looking for a Website builder with tremendous hosting capabilities then you must go with Wix but if you are looking for huge hosting capabilities and server resources for your website then you must surely choose Bluehost.